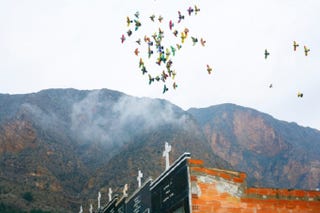 Why are these pigeons painted? It's their dating uniform:

A popular past-time in Spain is competitive pigeon courting. Participants train their male pigeons to pursue hens with a white spot or feather on their tails. For the competition, the pigeons are released in the same area as the hen. The pigeon that most successfully woos the hen wins. Each pigeon is given a particular paint job to distinguish it from the others.
This video provides a good overview of the hobby:
Lead photograph via The Guardian, which has more.
You are now looking at Screenburn, a Kotaku blog dedicated to the best gaming images, videos and GIFs online.