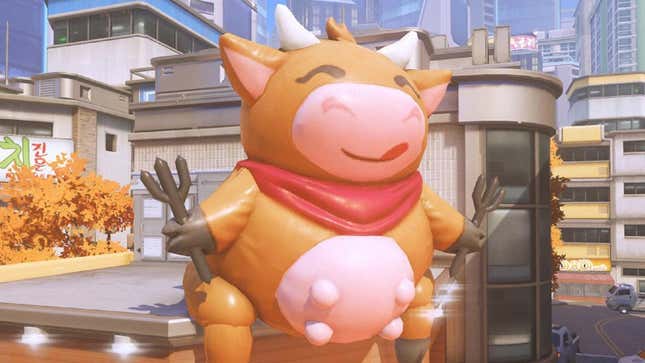 When Overwatch 2 launched in October, it brought several changes to Blizzard's hero shooter. With character reworks, a new 5v5 structure, and an extremely controversial storefront, the sequel was essentially a refresh of just about every aspect of the original. There's a debate to be had about whether or not any of these things are a net positive, but one thing all fans could agree on was that the biggest nerf was to a giant, inflatable cow balloon on the Busan map, who once was able to do a little jig when players interacted with it. Well with the latest patch, Blizzard has given the cow balloon its groove back.

Overwatch 2's New Story Missions: Worth The Money?
Fans took note of the change back at launch, as it became clear the physics of the balloon were completely different in Overwatch 2. Originally, the balloon would stay mostly tethered to the roof it's set on, allowing players to make the cow dance in time with shots and other attacks. It's a tiny thing, but after six years, Overwatch fans had taken to the little quirks they'd found around the game's maps. Since October, the balloon has instead deflated and moved off the roof rather than staying tied to it in a way that never looked quite natural or intentional.
Thankfully, Blizzard has addressed the issue in Overwatch 2's latest update, where it clarifies this was a glitch with the cow balloon's physics, rather than a deliberate change. Now break out your dance emotes and have a rave on the roof in Busan.

While the cow balloon is a fun footnote on longer patch notes, Blizzard has been updating Overwatch 2 at a much faster rate than it was updating its predecessor in its final few years. Blizzard has largely credited its work on the sequel for why the original game stagnated, but it is refreshing to see balance changes and other tweaks coming regularly. Even if some of the changes are divisive.