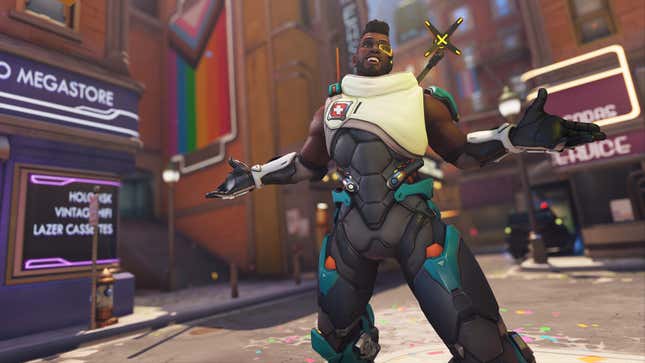 The official Overwatch 2 forums have been abuzz ever since Blizzard confirmed that there are more queer characters in its hero roster than we were previously aware. While some posts are from folks suspiciously eyeing the welcome confirmation that Pharah is in fact a rocket-powered lesbian as if it must portend some future disappointment, others scratched their heads at the revelation that Baptiste has two hands for holding both boys and girls.
The Best Gear For Scoring Goals In Mario Strikers: Battle League
Yesterday, Overwatch 2 announced its first-ever Pride event will be starting on June 1. In addition to providing new sprays and player icons celebrating identities from across the sexual orientation and gender identity spectrum, the event also confirms that Baptiste is bisexual via a new in-game name card displaying the bisexual flag with the ex-Talon healer's outline. Meanwhile, Tracer and Pharah, Soldier 76, and Lifeweaver received name cards displaying the lesbian, gay, and pansexual pride flags, respectively.

Read More: Overwatch 2's Pride Event Shows Blizzard's Trying To Do Better By Its Queer Community

Baptiste's bisexuality became something of an open secret two months ago when Blizzard revealed the game's latest hero, Lifeweaver, as players were quick to discover a flirtatious interaction between him and Baptiste. Their exchange, which heavily tilts the scales proving that love can bloom on the battlefield, is as follows:

Lifeweaver: "I've got reservations at a fantastic restaurant, but I'm not too sure who to invite."

Baptiste: "I know a guy."

Lifeweaver: "Is he, by any chance, a dashing ex-mercenary from the Caribbean?"

Baptiste: "[Chuckling] He might just be."
Read More: In Overwatch, Healing Is The Real Gay Agenda

As of the writing of this article, eight of the top posts on Blizzard's official Overwatch forums are from players who are up in arms about Baptiste being bisexual, with some of them struggling to cope with the fact that their main is (gasp) an alphabet person. Twitter user transjunkrat uploaded a screenshot of a now-deleted and extremely funny interaction between two players over Baptiste.
In the discussion post titled "Baptiste is bisexual? Seriously?" user NightLegend wrote that Baptiste being bisexual ruined his otherwise "straight as a mofo" cool-guy personality. This post would later prompt a scathing clapback from user Heide who burst NightLegend's whole bubble of toxic masculinity saying, "I have banged dudes on Grindr that would make your dad look like Anakin Skywalker. Simple as."

Boom. Roasted.

As some posters voice the usual homophobic drivel we get whenever any fictional character comes out, some are suggesting that it's strange of them to react with such shock and anger now given that this was effectively revealed by the dialogue exchange with Lifeweaver a few months back. At the same time, a lot of fans are questioning whether or not OW2 made Baptiste and others canonically queer to appease players upset over the nerfing of the game's once-promised story mode.

"I understand people's gripes with companies faking support for marginalized communities for the sake of profit and publicity, especially in terms of Pride, BHM, Stop Asian Hate, and the like. However, what Blizzard's doing rn isn't that," SaucyTheShin wrote. "Don't get me wrong, Blizzard is still wrong for a LOT of things in the past, but this event is perfectly reasonable in terms of celebrating Pride."
SaucyTheShin pointed out that Blizzard won't make a cent from the event because every Pride cosmetic is free and all proceeds from OW2's Pride merch store will be donated to the National Center for Transgender Equality.

"So before people go out to say Blizzard is solely doing this for money, I can't imagine how since they have zero avenues for profit out of this outside of people just playing the game," SaucyTheShin wrote.

When ElRisitas suggested that Blizzard calculated the release of the PvE news update and its Pride event close to June as some sort of calculated tactic, SaucyTheShin replied by saying "I doubt they are that smart" and that it ultimately wouldn't have made a difference.

"People are gonna be upset about PvE long after June," SaucyTheShin wrote.