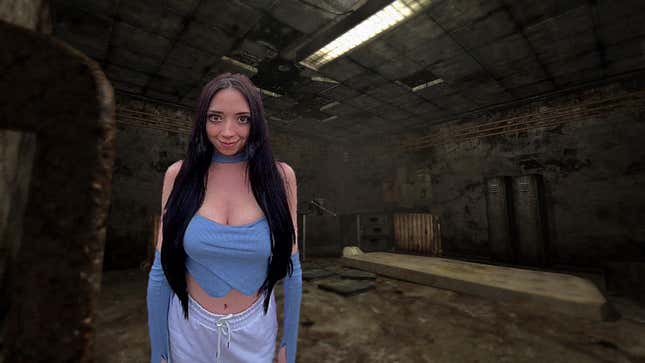 You open TikTok to find a woman rushing toward you in her kitchen. "My parents are coming over," she informs you, her jaw snapping open and shut like a stork swallowing a fish, "can you help me clean?"

The Top Ten Most Played Games On Steam Deck: January 2023 Edition
Two dialogue options pop up. A mouse cursor hovers over "No thanks" before deciding on "Of course, dear." But the next moments of the 30-second video, which has collected 16 million views since being posted in December, make you uneasy. Though the cursor quickly clicks away piles of trash, it also opens up the oven to find a burned whole chicken covered in scaly soot. "Oh dear," the woman says, "now I'll have to feed them something…else." The screen turns red. You're stuck in OnlyFans and TikTok creator Molly Moon's haunted world now.
Moon, who did not respond to Kotaku's request for comment in time for publication, has been posting on OnlyFans and Instagram since 2021 and stuck to what you'd expect for a while: milkmaid blouses, mall dressing room thirst traps, and the occasional PornHub upload. In 2022, though, she started regularly posting her horror game-inspired "creations," as she calls them, on a second Instagram and on TikTok, revealing the pretty cannibal within.
"Excuse me, sir," begin many of Moon's initial attempts at unnerving first-person videos. They'd all, at first, follow a formula, reaching an apprehensive conclusion in seconds, with Molly preparing to trap you in her brick-wall basement, or her apartment, or suggesting that she'll bake you into her banana bread.
"I am now afroused," one popular comment said about these videos, where Moon's tennis skirts and fluttering fake lashes are tense against the empty playgrounds and forest patches she films in. But in addition to luring victims and viewers, Moon's clothes reveal her horror influences—in some videos, Moon wears a similar sweater to the famous Baby Gap zip-up Megan Fox wore in the 2009 movie where she eats boys, Jennifer's Body. In others, she looks like the spindly Corpse Bride, preparing her unwilling chosen one for eternal, unholy matrimony.
Positioning Moon in this wider horror canon makes her move to pixel, point-and-click-style horror—all reminiscent of indie studio Puppet Combo's low-poly horror games, many of Moon's comments will inform you—feel natural.
These more recent videos up the production value and deviate from Moon's original "excuse me, sir" format, but retain the dangerous, first-person perspective. They force you to interact with a more lo-fi Moon—her voice more metallic, like it's coming from beyond the closed basement door, her body looking ragged and square around the edges, like it was copied and pasted onto a Windows 98 desktop—as she punishes you for clicking "right" instead of "left," or as her health bar fills once you select a rose from your inventory to hand over. Then she feeds the flower to her toothed handbag.
These videos that look like games are her most popular by far, receiving 13 million views, 15 million views, or 22 million views when they aren't getting flagged for "disturbing" content. Since she started posting them in November, they've also motivated fan art imagining what a real Molly Moon game would be like and leading actual game devs to please allow them to create it.
That seems like Moon's logical next step. Indie horror developer Airdorf, who did not respond to Kotaku's request for comment in time for publication, teased a GIF of what appears to be a full game earlier this week. In the GIF, a pigtailed Moon stares at three tarot cards while another three face the player—Airdorf, Moon, and Monster Prom producer Jesse Cox are all involved, the cards reveal when you read them backwards.

I'm excited by Moon's popularity and what it might mean for horror games, which are often held down by similar tropes to horror films, like useless hot girls, and villains whose evilness relates to how well they perform ideal femininity. Moon's videos also improve the ideas of more subversive horror games, like Lollipop Chainsaw, by removing their predation and putting them in her own hands—in a woman's hands, for a woman's execution. Her videos don't allow women to seem like both prey and predator, only a predator disguising itself as a glass-eyed bunny.
It's about time games uproot their old narratives. Like Amanda Seyfried says in Jennifer's Body, I've always known that "Hell is a teenage girl."