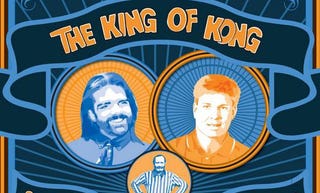 Steve Wiebe, famed King of Kong underdog, just got 500 more pounds of incentive.
UGO is reporting that Stride Gum is offering the one-time Donkey Kong champ $10,001 in quarter if he's able to beat Billy Mitchell's Donkey Kong high score. The current score sits at 1,050,200.
"Steve Wiebe is an inspiration to gamers everywhere, and we believe he truly deserves the title of Donkey Kong world champion," said Gary Osifchin, marketing director at Stride. "This is exactly the kind of long lasting endeavor that we here at Stride appreciate, and we have full confidence that Wiebe will once again surpass the million points mark and avoid the kill screen for long enough in the process."
Weibe will be at E3, hopefully wheelbarrow on hand, to try and break the record live on G4.
EXCLUSIVE: Steve Wiebe to Win 10 Grand in Quarters if he Breaks DK Record[UGO]