In its first major tournament since the annual International in August, competitive Dota 2 returns this weekend with a $300,000 event in Hamburg, Germany. Though China's Team Aster came out on top of the group stage with only one loss, it's now hanging on for dear life in the lower bracket.
The days and weeks following every International are a tumultuous time for competitive Dota 2. Big players often transfer to new teams in the hopes of finding their talents better utilized elsewhere, and new teams are born whole cloth. That's what happened with Team Aster, who qualified for this weekend's ESL One Hamburg after a tough series of matches in Asia, defeating a household name in Team Newbee to do so.
Team Aster is by no means short on talent, with players from Invictus Gaming and helmed by the well-known Lu "Fenrir" Chao, previously with Vici Gaming. It also has a particularly green face in Deng "Dstones"' Lei, who was previously with Echo Gaming and has yet to prove really himself. Coming into ESL One Hamburg, Aster looked to have the perfect alchemical mix to either go boom or bust, and in short order it succeeded in doing both.
Though Aster went 9-1 in the group stage, even defeating Virtus Pro in two games back to back, it struggled against Vici Gaming, Fenrir's former team, in the first round of the upper bracket, slipping 2-1 in a three game series which ended abruptly in a particularly quick final game.
G/O Media may get a commission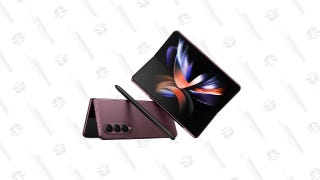 Save Up to $300
Galaxy Z Fold4
Team Aster now has to make its own luck in the lower bracket, first on Saturday when it faces an arguably lesser opponent in paiN Gaming at 6:00 a.m. ET and then the more difficult winner of Team Secret vs. Evil Geniuses at 1:40 p.m. If Aster can hold it together that long, the road gets even harder on Sunday with potential matches against Vici Gaming and Virtus Pro starting at 7:10 a.m. before moving straight into the grand finals afterwards.
The fall marks the start of Dota 2's 2018-2019 season, and a lot of the fun comes from seeing what new teams are able to establish themselves and which go down as bad, impulsive experiments. Though Hamburg isn't the biggest, it'll offer a nice partial preview for next month's Kuala Lumpur Major in Malaysia. Unfortunately, because it's ESL, you'll have to watch this weekend's events on Facebook to catch them live.
Professional Dota is far from the only thing going on this weekend. Worlds, League of Legends' big tournament, also continues with the semifinals. Boasting no shortage of surprises, Europe now finds itself on top with both G2 and Fnatic threatening for spots in next weekend's grand finals. To do so, they'll have to get through Invictus and Cloud9 respectively. The first of those matches will be on Saturday at 4:00 a.m. ET, while the second will take place at the same time on Sunday, with rebroadcasts at 3:00 p.m. on both days, streaming here.
There's also a major regional fighting game tournament this weekend with Canada Cup 2018. Featuring every fighting game you could want, from Street Fighter V to Sailor Moon S, the action kicks off today at 2:00 p.m. ET. You can find a full schedule, list of games, and streaming channels over at the event's website.
Finally, TwitchCon is this weekend. While Kotaku's senior reporter Nathan Grayson will be covering the event in person, there are a ton of side-events going on that you should check out over on Twitch, such as an abbreviated speedrunning marathon by Awesome Games Done Quick. It starts today at 2:00 p.m. ET with Sonic Mania and will run straight through the entire weekend, ending on Sunday around 5:00 p.m. with a speedrun of Super Mario 64. You can watch the marathon here or in the feed below, with a complete schedule of all the games being played available here.