Minimum, a stylish online shooter, has been mysteriously offline since September 2015. 141 days later, there's still no word on when it'll be playable again, and the game's publisher, Atari, can't say when that might change.
Minimum was originally created by TimeGate Studios, but the developer eventually went under. Later, Atari and Human Head Studios jointly took over.

If players try to boot up the game right now, here's what Steam says:
Everything got weird last September, when an otherwise innocuous update on Steam suggested there would be a brief interruption for players:

We are anticipating some disruption with our Account/Server system, which may affect user ability to login to the game over the next few days. We are working to resolve this as quickly as possible. We will update as soon as additional information is available.
G/O Media may get a commission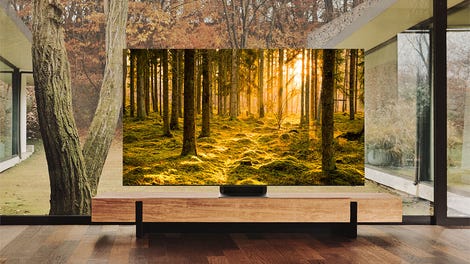 Up to 40% off
Samsung Smart TVs
A couple of days became a couple of weeks. In early October, Atari admitted a key piece of middleware was discontinued, "effectively disabling the game for the time being." The game was removed from sale, and players were told there was "a plan in place to fix this issue." It was supposed to be a brief downtime:

We will need a few weeks to get this implemented, but the result is a Minimum game experience that is more flexible, more stable, and just as much fun. We are aware there is lots of concern and discussion in the community. We are hearing these voices and we are doing everything we can to get the game back up as quickly as we can. Thanks again for your patience, and stay tuned as we get more visibility into details, timing, and feature tweaks.
As the year went on, nothing changed. The game remained offline. Tick, tock.
The game's previous developer, Human Head, told me they stopped working on the game in February 2015, long before Minimum's servers went dark.
On December 10, Atari announced a new developer had been brought on board to get Minimum "back up and running." The company said it was able to play games internally, apparently a signal of progress. The new deadline? Early 2016.
Again, we truly appreciate your patience as we work through the process of rebuilding the Account and Server structure for Minimum. We understand this is an inconvenience, and we are working as quickly as possible to get everything resolved.
Mid-February would seem to qualify as "early 2016," yet there's been no update to Minimum fans about what's happened to the game they paid for.

When contacted for comment, Atari COO Todd Shallbetter told me the company hoped to have an update in the "coming week."
"The initial scope of work has been completed," said Shallbetter, "but there are still a few complications that have resulted from the deep integration of the server middleware. We're doing our best to get an optimal experience back up and running for our users, and will continue to support the Minimum game and community."
That's not exactly an answer, and it's not clear when Minimum will be online.
"We halted sales as soon as the server issues arose," said Shallbetter. "With that said, at a $10 price point, we feel we are delivering a great value for this excellent shooter."
Uh huh.
You can reach the author of this post at patrick.klepek@kotaku.com or on Twitter at @patrickklepek.