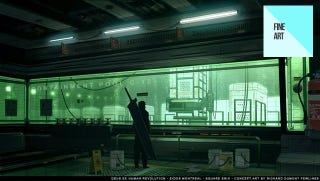 Fine Art
[Fine Art](https://kotaku.com/c/fine-art) is a celebration of the work of video game artists, showcasing the best of both their professional and personal portfolios. If you're in the business and have some art you'd like to share, [get in touch!](mailto:plunkett@kotaku.com)
We've looked at it not once, but twice here on Fine Art, but the art of Deus Ex: Human Revolution is so damn good I figured it was worth one more feature. Especially since we've got some all-new pieces to share.
Good things come in threes, right?
Richard Dumont, whose work on the game we showed off in the first collection, was kind enough to open up his sketchbook (well, website) and share some more concept images from his time at Eidos Montreal.
Deus Ex fans are of course being well catered for, but so are Final Fantasy fans. You'll understand once you hit the gallery above.
With Deus Ex finished, Dumont is off to Holland to work with the Guerilla Games (Killzone) team. You can see more of his great work at his personal site.
To see the larger pics in all their glory (or so you can save them as wallpaper), right-click on the "expand" icon on the main image above and select "open in new tab".
Fine Art is a celebration of the work of video game artists. If you're in the business and have some concept, environment or character art you'd like to share, drop us a line!
---
You can contact Luke Plunkett, the author of this post, at plunkett@kotaku.com. You can also find him on Twitter, Facebook, and lurking around our #tips page.