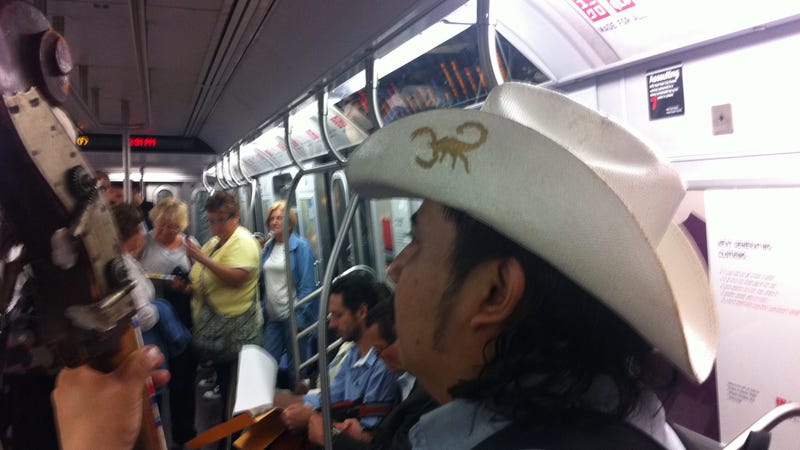 On the Six Train -Today I was surrounded by mariachi while riding the six to work. They proceeded to perform as if I wasn't there.
That figure comes courtesy of a Global Download Report published by the global game-delivery company Pando Networks. The study, which was conducted from January 1 through June 30th, 2011, tracked the download speeds of 21 million gamers around the world. More »
---
Goat Up is a love letter to perhaps the one genre of game that game maker Jeff Minter and his team at Llamasoft had never made: The platformer.
In Goat Up players control a grass-grazing goat as he makes his way up an endless series of platforms, discovering hidden items, and occasionally love, and... More »
---
Every few weeks we here at Kotaku make a selection of some of the best Indie games that Xbox Live has to offer. These are our latest favorites.
You'll be able to find the list here for reference, or in the "Kotaku's favourites" channel in the Indie Game section of Xbox Live's Games Marketplace.
More »
---
In today's continuity-shattering installment of Speak Up on Kotaku, commenter Yoshi Salcedo wants us to settle an argument he's having with his girlfriend over Square Enix's Kingdom Hearts series. More »
---
We like Gears of War 3. We also like laughing at glitches. But when our intern Chris told me he found a Gears glitch that involved one of our Gears heroes falling through the world, I frowned. More »
---
In Sideway: New York players take on a graffiti artist turned into a piece of his own art after taking on the wrong tagger rival.
It's a shaky premise attached to some mind-twisting gameplay that has your playing as a flat bit of art sliding along the walls, ground, floors and roofs of New York's... More »
---
Last night Crecente took us through the first ten minutes of the Diablo III beta test with his Witch Doctor. Now let's take a look at the beta's final moments with my lovely Monk. More »
---
Dark Souls doesn't launch in Japan until tomorrow, but some players have managed to get their hands on copies early and are playing away without a care in the world. More »
---
For the better part of the day, PlayStation 3 owners have been unable to take their consoles online via Sony's PlayStation Network, a seemingly unplanned network outage that the company says it's "working hard on restoring."
PlayStation Network service appears to have been interrupted early on... More »
---
Each Wednesday brings new comics worth reading. Some of them are about video games. This month, a lot of them are new DC super-hero comics, since that company is re-launching everything. More »
---
Technically, by speed run I mean playing through a level of Rochard without dying faster than I did during my brief time with the game.
The 2D platformer hits the PS3's Playstation Network and PC's Steam next week for $10. More »
---
In my hour spent wearing a macabre clown mask robbing banks, looting armored vans and freeing prisoners, I rarely managed to succeed.
It wasn't because I didn't have the tactics, or the ability, it was because I had, perhaps, a tad too much avarice.
In most of the four scenarios of four-player... More »
---
Today we all know that Luigi is the taller of the two Mario brothers, but back in the old days the difference wasn't quite as easy to notice.
To think that Luigi was just a pair of red and blue overalls away from being the star of one of the greatest video game franchises of all time. More »
---
We like tips!
Got tips for our editors? Want to show the world your latest creation? Ready to anonymously share an unannounced game? Email us at tips@kotaku.com. Or leave us an anonymous voicemail at (612) 568-2581.
Want a different layout?
Click here for the Speak Up or Tips forums. Want a more "blog-like" look? Click the button up top next to "Top Stories."
Get more Kotaku!
Want even more Kotaku? Want to know which of your friends read us? "Like" us on Facebook and follow us on Twitter.