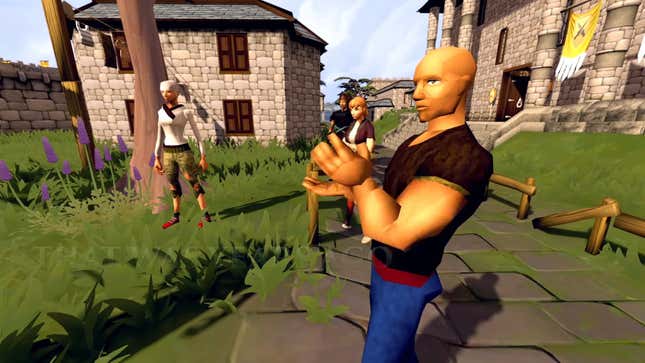 Folks: Never make a bet that you're prepared to lose. Just ask this Old School Runescape community member who thought that his rival wouldn't be able to get a coveted pet with a 1-in-9,779 drop rate and was so confident he bet against it. Unfortunately, his rival did the statistically improbable, and instead of going back on his promise like a lesser man, the Redditor actually got his fiancé to pour scalding hot coffee on his asshole. I can't help but salute his courage and good sportsmanship.
The Top 10 Most-Played Games On Steam Deck: May 2023 Edition
The giant squirrel is an extremely rare Runescape pet that you can obtain from the MMO by completing certain obstacle courses. Originally spotted by GamesRadar, Runescape player heytomsmyname had run 100 laps every day for over 200 days in hopes of obtaining the pet. But the drop rates are so abysmal that Redditor TessaHolly was convinced that he wouldn't be able to obtain it within the next 24 hours.
"If you get it tomorrow I will have my fiancé pour hot coffee on my butthole," he wrote on Reddit. Tom got the giant squirrel the very next day. "I thought to myself: What is one more day? There's no chance they will get it. I was so close to deleting my Reddit account and abandoning the bet because I couldn't believe they actually got the pet," he told Kotaku over DMs. But to him, a promise was a promise.
Literally any normal person on the internet would understand if a grown man didn't want to ask his fiancé to pour hot coffee on his asshole. It would have even been easy to lie and say that she refused such a ridiculous request. But (un?)fortunately for TessaHolly, his fiancé was very sporting. "When I asked my fiancé for her assistance, her face lit up with excitement and she said 'of course' and asked me if she could share it with her friends," he wrote. Relationship goals, honestly.

If you want to watch a video of a man squirming away from a pot of scalding hot coffee being poured on his ass, be my guest. Don't watch this at work, obviously. "My butthole feels tender," he told Kotaku. "I'm so glad that I invested in a bidet."