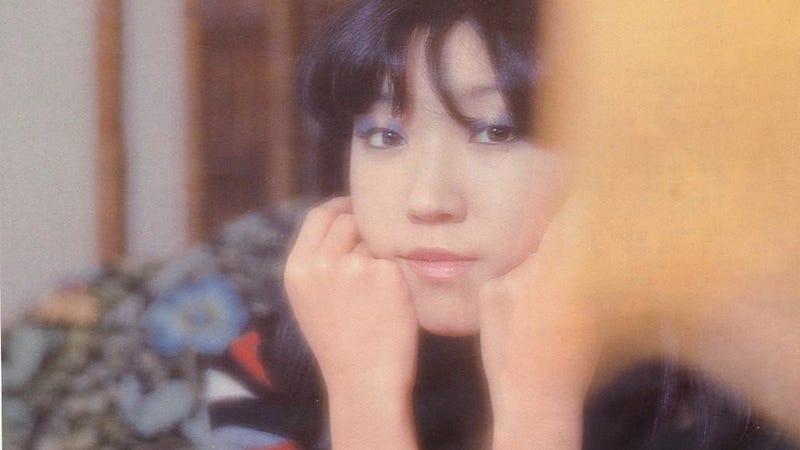 They were young. Attractive. During the 1960s and 1970s, a conveyor belt of female pop idols hit the record charts in Japan, releasing forgettable single after forgettable single. They didn't write their own music, and they didn't have to. Their job was to be cute.
Yumi Matsutoya wasn't considered cute (she still isn't), and she wasn't the best singer (singer-songwriter Miyuki Nakajima sported more impressive vocal pyrotechnics). But could Matsutoya ever write a pop song, which is why, decades after her debut, everyone in Japan still remembers her name and goes to her concerts. It's also why she appears in Japan's most beloved puzzle franchise, Professor Layton.
Throughout the 1960s, Japan was in upheaval, like the U.S. and Europe. The times, they were a-changin', and an energized youth, who were born after the war but raised during reconstruction were keen to change the country. There was something in the air, and by the end of the decade, bands like Happy End emerged.
Happy End wrote their own music and played their own instruments, which sounds somewhat like a given, but a quick survey of current popular music in Japan, with its plethora of boy bands, makes that seem somewhat amazing. Groups like the Happy End were part of the "New Music" movement that focused more on playing live than trying to get a gig on some idol TV show.
Yumi Matsutoya, who was then known by her maiden name "Arai", released her first studio album just as Happy End were breaking up. Influenced by American singer-songwriters like Joni Mitchell, Matsutoya also focused more on her live appearances than simply mugging for the TV cameras and trying to look cute. Matsutoya was considered more "cool" than "cute", and it was her ability to pen tunes that everyone could relate to that won over fan after fan. And when she wasn't writing her own songs, she was writing tons of songs for other artists, both male and female.
In 1989, Matsutoya's music was introduced to a whole new generation. A couple of her tracks from the mid-1970s appeared in the Ghibli flick Kiki's Delivery Service for the opening and closing themes. The anime's opening track, the doo-wop "Rouge no Dengon", is from Matsutoya's 1975 album Cobalt Hour, which hit number one on the pop charts when it was released. The closing track was "Yasashisa ni Tsutsumareta nara", from her 1974 album Misslim. Her early albums, recorded under her maiden name Yumi Arai, are classics and still wonderful today. They've aged, but in a very, very good way.
Even in 2011, Matsutoya remains a household name. Her live shows, which have gotten increasingly opulent over the years, continue to pack them in. She's even doing the "vocal theme" for new 3DS title, Professor Layton and the Mask of Miracle. Her tune "Mysterious Flower" (via Tiny Cartridge) was reworked slightly for the game and has a Layton-style music video.
Her last name might have changed, her music might have changed, but four decades on, one thing hasn't: Yumi Matsutoya is still cool.
Culture Smash is a daily dose of things topical, interesting and sometimes even awesome - game related and beyond.