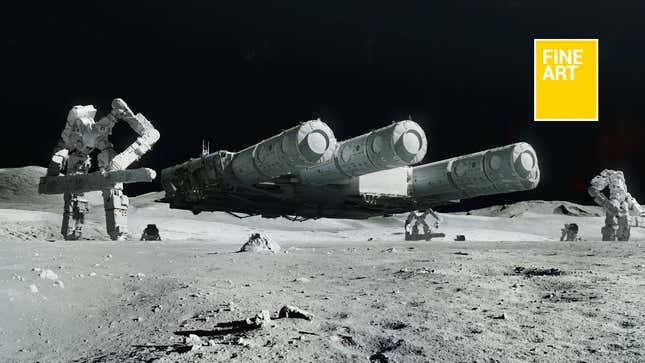 Humans are going back to the Moon! NASA's Artemis program is going to send a bunch of astronauts to the Lunar surface in the coming years, initially for Moon business, but later to start work on the eventual journey to Mars. It's exciting stuff, but as this art series shows, it can't hurt to pack a few extra pieces of equipment when they get up there. Just in case.

God Of War Is Still The GOAT For Opening Boss Fights
Korean artist OHA has produced this series of pieces called MOONPIT, which is about...a giant pit on the Moon. The story goes that a Lunar expedition in the near future, not too dissimilar to Artemis, discovers a mysterious hole inside a crater. A hole that doesn't look like it's a natural occurrence.
That's about the gist of it—this is a series of images, not a short story—but it's incredible stuff. I'm a huge fan of the chicken-legged "mechs" that the astronauts are using to walk around in, with their massively-exaggerated sun visors stretching all the way around their heads, which look fantastic, yet at the same time like something NASA would actually cook up. And I'm an even bigger fan of those bigger robots/mechs later on, with their long arms and serious firepower.
You can see more of OHA's work at their ArtStation page.
---