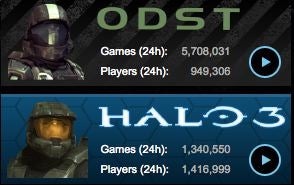 According to a widget box at the front of Bungie.net, close to 950,000 people had played Halo 3: ODST on its first day of release, logging more than 5 million games. Yes, those are impressive numbers.
As of the time this post was written, ODST's 24 hour figure for total players was 949,306; the 24-hour total for games played was 5,708,031. Divided out, that's six games per player, on a school night/in the middle of a workweek. And you know there were some out there blowing the curve and staying up all night with this.
For comparison's sake, Halo 3 saw 1,340,550 games yesterday, so, ODST more than quadrupled that. Some have tried to hazard quick guesses on ODST's first day sales; we'll wait for NPD. But if this is any indication, yeah, it's probably gonna do land office business.