Surging college basketball player Jack Cooley doesn't attribute his recent success to some sort of miracle or an act of God. Nor does he blame nonsense like "hard work" or "dedication."
Nope — he did it by quitting video games, according to an article published last week by The Chicago Tribune.
"Never get Skyrim," Cooley told the newspaper, referring to the popular fantasy role-playing game. "You'll never stop playing it."
Cooley, a center for Notre Dame, averaged 6.125 points and 7 boards during his first eight games this year. But since early December, when he decided to "rededicate himself," he's averaged a double-double, tallying 15.4 points and 10.3 boards.
The message? Quitting video games will turn you into a basketball superstar.
Just ask ESPN writer Eamonn Brennan, who wrote a blog post today sagely telling parents to use Cooley's story to keep their kids away from video games:
Phew. That quote makes me really glad I didn't buy SkyRim. I thought about it, and I read about how addicting it was, and I made a responsible, adult decision to wait until the offseason. I do not regret it.

But in all seriousness, as Cooley explains in the story, he really did have to refocus on the game of basketball, to become the sort of "waking up, eat, class, eat, basketball, eat, sleep" type of person. Clearly, the dedication has paid off. Who knew SkyRim was so insidious? And how many other college basketball players have we lost to its absorbing charms? Does this epidemic know no end?

Anyway, parents, print this story out — or copy the link and send it to your kid's iPhone, so the email alert briefly jars him out of his game of Tiny Wings — and show him what the power of fewer video games can do. Cooley isn't just a Big East player of the year candidate. He's also making parenting your video game-addled child 20 or 30 percent easier. Thank him later.
G/O Media may get a commission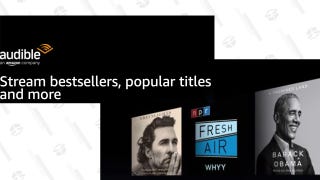 FREE
Audible Premium Plus 3-Month Free Trial
Hear that? Stay away from "SkyRim" and you, too, can average a double-double in the Big East.
No more playing games for Cooley [Chicago Tribune, via ESPN]
(Top photo by Joe Raymond | AP)