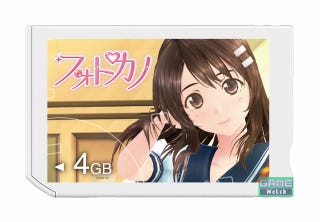 If Photo Kano is all the creepy picture taking you could ever want, then you're going to need a new Memory Stick. Good thing Sony is releasing just that!
Going on sale September 29, the Photo Kano 4GB Memory Stick is priced at ¥3,280 (US$40). It comes with a redeemable code for Photo Kano PSP wallpaper.
Photo Kano is kind of like Pokémon Snap meets schoolgirls.

SCEJ、「フォトカノ"メモリースティック PRO デュオ"(Mark2)4GB」。特別仕様の"メモリースティック PRO デュオ"を初回生産限定にて発売 [GAME Watch]