Atari founder Nolan Bushnell is back in the gaming business once again, as a press release heralds his "third coming" as part of the gaming sweepstakes website GameWager.
GameWager is a service founded in 2007 and in public beta since July 2008, that rewards players who sign up with tokens for completing certain objectives in various online games. Get a kill in Team Fortress, get a token. Players can then redeem tokens for chances to win prizes, such as Alienware Laptops and Nvidia graphics cards. So far the list of supported games is tiny, but World of Warcraft, Left 4 Dead, and Red Alert 3 support is currently in the works.
I am assuming that this particular press release was issued in order to tie Nolan Bushnell to the project, perhaps drumming up more interest in publishers to help get their games supported. Is this a smart move? Judging from some of Bushnell's past projects, his endorsement might be more akin to nailing a dead rat to the front door of your new restaurant.
Atari & Chuck E Cheese founder has "third coming" with GameWager
AUSTIN, TX - January 26, 2009 - Nolan Bushnell, the founder of Atari & Chuck E Cheese, aims to combine the success of both into a new service that is introducing similar dynamics to existing PC games with its' unique online platform called GameWager.
G/O Media may get a commission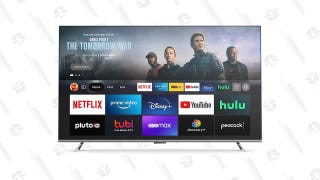 Save 46%
Fire TV 55" Omni Series 4K UHD Smart TV
Designed for gamers of all skill levels, GameWager's platform introduces a reward system that lets gamers earn virtual tokens for completing in-game actions like kills, objectives and team wins in multiplayer PC games like Counter-Strike and Team Fortress 2. Earned tokens can be redeemed for a chance to win sponsored prizes like Alienware laptops, Nvidia graphic cards, a Hypernia hosted server for 1 year and much more. Nolan serves as an "executive advisor" to the company that has seen over 60,000 gamers earn 25 million tokens since its' launch last July.
For the hardcore, GameWager allows gamers to directly wager tokens against each other in real-time to settle virtual trash talking; a first of its kind in the video game industry that is desperately looking for new revenue streams to offset exponential development costs studios now face.
GameWager also offers interactive social tools that allow gamers to brag, share and compare all of their aggregated game stats across hundreds "GameWager enabled" of servers worldwide.
The free service has made it very easy for all gamers with nothing to download or install and the sign up process taking less than ten seconds. The company has many titles in development that span the industry's genres from World of Warcraft, Call of Duty 4 and Red Alert 3 to casual games on site.
About GameWager
GameWager is an online platform designed for gamers to get more out of their gaming experiences. It currently offers a reward system and wagering platform built on a virtual token currency in addition to a suite of interactive social tools. Founded in 2007 by Thomas Marriott and George Giannukos, GameWager is advised by the executive direction of Nolan Bushnell, backed by Todd Wagner and headquartered in Austin, Texas. Please visit gamewager.net for more information.