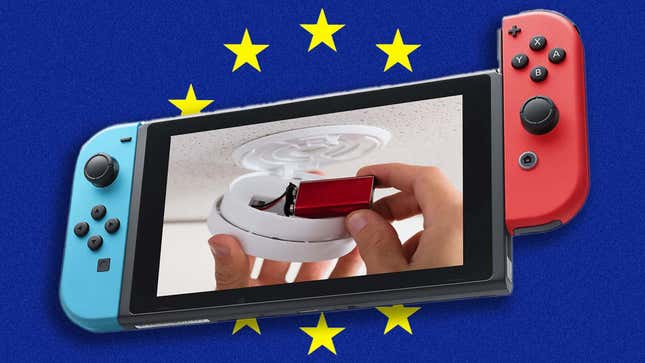 The European Union dropped new regulations demanding future consumer tech products, including gaming handhelds like successors to the Nintendo Switch and Steam Deck, have user-replaceable batteries by 2027.
Thank You, PS Plus, For Making My Backlog Even Bigger
Read More: 'Let Him Fix It': The Battle Over Who Gets To Repair Your Consoles
In a press release outlining the new mandate, the European Council stated that all portable batteries for appliances, light transport vehicles such as electric bikes, and other devices should be removable and replaceable by the end user. The aim is to reduce the environmental and societal impacts of discarded batteries, with the goal of creating a "circular economy" which encourages recycling and reusing old batteries as much as possible. In a statement to indie gaming publication Overkill, an EU source said upcoming gaming handhelds are also included in these new regulations.
"The batteries of gaming handhelds are covered by the batteries and waste batteries regulation," an EU representative said. Meanwhile, the document detailing the regulation states that, "A portable battery shall be considered readily removable by the end-user where it can be removed from a product with the use of commercially available tools, without requiring the use of specialized tools, unless provided free of charge with the product."
Read More: This PC Gamer Built Their Rig After Dumpster Diving For Months
According to the directive, product manufacturers will be required to include removal instructions and safety information to assist users with replacing old batteries, and they must be removable with common, readily available tools (or with proprietary tools that are provided free of charge with the device). Still, we'll have to wait at least four years for the ordinance to take effect, and in that time, it may face all manner of resistance from manufacturers, so it's probably too soon to celebrate this as a milestone for tech sustainability. But there's hope.