This new Nintendo Switch game about sheep is a little bit horny, and also very morbid.
When you look at Shephy on the Nintendo Switch eShop, it looks like a cute card game about sheep. And for the most part it is. The goal of the game is to use all the cards in your deck to get as many sheep on the board as possible. At the top of the board there are sheep cards numbered from one to 1,000—you just have to use the cards in your hand to get them on the board. It's trickier than it looks.
Some cards will add sheep, or allow you to add sheep together, but many more cards will remove them, and there's only a few ways to remove those damaging cards from your hand. A card like "Be fruitful" will duplicate a card, while the "Storm" card will remove two, or worst case scenario, "Shephion" will remove all your sheep. It's a tough puzzle but it doesn't feel unfair—every time I find myself with a losing hand of cards, I realize there was a way to have planned around it, and I do better the next time I play.
The thing about this game is that it's very grim. At first blush, the game might feel a bit cheeky—the art on the aforementioned "Be Fruitful" card depicts two sheep humping each other.
G/O Media may get a commission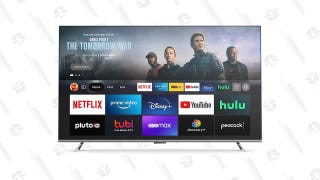 Save 46%
Fire TV 55" Omni Series 4K UHD Smart TV
More often than not, that card will sit in your hand next to a card called "Plague" which depicts two sheep with lesions all over their bodies.
These sheep live only to die. In fact, they say as much in the story mode, called "Post Loves."
I guess it's fitting! When you play Shephy, you will lose a lot. I haven't actually had a successful run in the standard game mode yet, and the story mode is even trickier, with gimmicks to each level. On the first level, all your disaster cards are "Plague," which removes all sheep of one number class. You have to make sure you have sheep of different classes on the board at all times, then, and there's not very many ways to do that. You're just going to have to watch all these sheep die over, and over, and over.
You can grab Shephy for $5 on the Nintendo Switch eShop, and I'd definitely give a try. It might be gruesome but it's a good brain teaser. I'm sorry, sheep.