Last month the Federal Trade Commission (FTC) sent letters to the three big console manufactures, Sony, Microsoft, and Nintendo, telling them they had 30 days to update their warranties or face possible legal action. So far, both Sony and Nintendo have made changes in an effort to comply.

Today, Sony announced that it had updated its warranties to be more transparent. Instead of saying that the PS4's warranty did not apply if third-party peripherals were used with it, the new language specifies that the warranty doesn't apply only "to damage caused by" unlicensed peripherals. It also said the stickers on the console which say the warranty is voided if they are removed aren't accurate, and that the warranty simply doesn't apply to any damage caused by removing the seals and opening up a console. In addition, the manufacturer now makes clear that shipping is free both ways for warranty claims.

In simpler terms, the previous language would have made it so that warranties wouldn't cover a console simply if it used, say, a larger but non-licensed hard drive to expand the PS4's storage. Now, the terms state clearly that Sony can only refuse to fix an issue with one of their consoles if that issue was specifically caused by the a third-party device.

Nintendo also made changes to the warranty language on its site. The top of the "Warranty Limitations" section now includes a new sentence saying the warranty only doesn't apply to damage caused by non-Nintendo products. A spokesperson for Nintendo provided the following statement regarding the update to its terms:

"Nintendo builds high quality products, while also striving to exceed expectations when supporting our customers. We continuously review and refine our support policies to ensure they embody that commitment. As part of that effort, we have updated our warranty text to clarify that Nintendo provides warranty service for defects not caused by the user or by other unauthorized acts. Revised warranty terms can be found at support.nintendo.com."
G/O Media may get a commission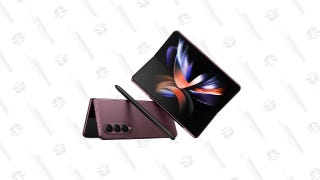 Save Up to $300
Galaxy Z Fold4
Meanwhile, Microsoft doesn't appear to have updated its warranty terms at all yet. Previously, the FTC said it was "concerned" with this line from the Xbox Support website: "Microsoft is not responsible and this warranty does not apply if your Xbox One or Accessory is...repaired by anyone other than Microsoft." As of when this story was posted, that's still the text that appears on the site.
Update - 1:08pm 5/10/2018: We've received the following statement from a Microsoft spokesperson:
"We are updating our warranties to clarify that having your device repaired by a third party, opening your console, or breaking the seal will not void the warranty. We are also further clarifying that the warranty does not apply to damage caused by users, third-party parts, or repair by third parties."