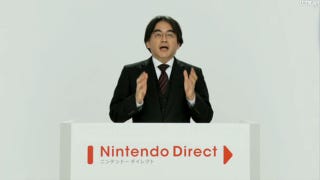 In late November, which is now, Nintendo was supposed to release a big 3DS update. It won't.
Today, Nintendo announced that the 3DS's big November update won't be released in November. Instead, it will hit by Dec. 8, making this a big December update.
With the update, it will become possible to transfer batches of data from one 3DS to another.
The Nintendo 3DS will also be getting a 3D camera, something that has already been mentioned. It will be possible to shoot up to ten minutes of 3D footage with the camera.
What's more, the 3DS is getting stop-motion photography, making it possible for 3DS owners to make their own stop-motion masterpieces.
StreetPass is also getting an update that includes a map for those Miis you meet via StreetPass. "Find Mii", the Mii mini-game, is getting a sequel, too.
ニンテンドー3DSの「本体更新」について [任天堂]
---
You can contact Brian Ashcraft, the author of this post, at bashcraft@kotaku.com. You can also find him on Twitter, Facebook, and lurking around our #tips page.