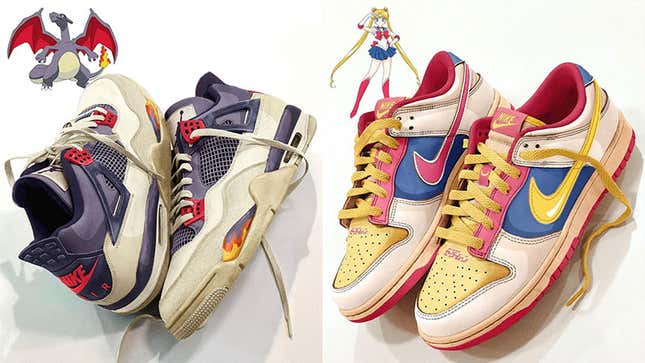 While Nike likes to dabble in the out-and-out nerd market sometimes, from Doraemon to Hello Kitty, for the most part the company likes to keep its collabs subtle, and has not worked with Nintendo for a long time. Meaning it will likely never officially release shoes this nice.

New Pokémon Scarlet And Violet Trailer Features Hot Profs, 4-Player Co-Op, And Lechonk, The Hero We Deserve
The sneakers you're seeing in this gallery are all the work of artist Andrew Chiou, who has been doing the rounds on shoe blogs this week for his recent Pokémon work, but that stuff is just scratching the surface. Using Dunks and Jordans as his canvas, Chiou has painted (or at least designed) a ton of custom sneakers lately based on everything from Dragon Ball to Sailor Moon, sometimes for customers, and sometimes as one-offs for celebrities and athletes.
These are a pair of "What The" Super Mario concepts ("What The" sneakers are Nike's special lines where designs get wild):
Here are some Pokémon ones he released earlier this week, featuring Scyther, Bulbasaur, Shiny Gyarados and Dragonite:
This is a pair of Sailor Moon concepts, again on a pair of Dunks, which with their retro styling and clean panel design makes them ideal to sketch out themes like this:
This pair of Dragon Ball Dunks, based on Vegeta, aren't a mock-up, these have actually been painted up on a real pair:
I am in love with the colourway on these Snorlax Jordan IVs:
And finally, just to break up the monotony of Dunks and Jordan IVs, here's a Venusaur mocked up over a pair of very lovely CDG x Nike ACG Mowabbs (scroll through to see the all-cream colourway of the original shoes, an all-timer for the silhouette):
If you want to see more of Chiou's stuff, you can find more shoe designs—both mockups and actual custom sneaker paintjobs—at his Instagram page.