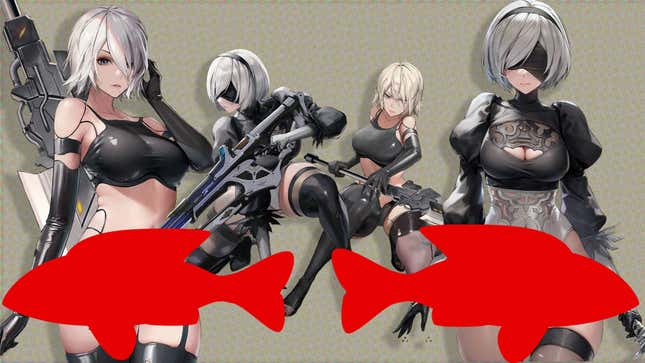 Nier: Automata, a fatalistic video game about attractive androids fighting to save a doomed humanity, is a franchise that'll never say no to making a guest appearance in another video game regardless of how nonsensical the crossover might be. In the six years since its release, the sci-fi roleplaying game has collaborated with games like Final Fantasy XIV, Monster Hunter World, Soul Calibur 6, Rainbow Six: Siege, PlayerUnknown's Battlegrounds, and Fall Guys. Its latest crossover with a popular mobile game may go down in history as its most unabashedly horny collab ever.
The Week In Games: Octopath Dreamland Deluxe
Goddess of Victory: Nikke, developed by Shift Up, is a free-to-play sci-fi shooter that appears to mostly be about buxom girls shooting guns while the recoil causes their butts, thighs, and boobs to jiggle like a bowl of tofu in a washing machine. In the recent past, the series has done collaborations with equally horny franchises like Chainsaw Man. Goddess of Victory: Nikke's Nier: Automata collab, which launches on September 1, will feature leading ladies 2B and A2, as well as Pascal (lol), as playable characters.
Read More: Nier Designer Butts In Regarding Cheeky Controversy

The above trailer may not give the game completely away for how ridiculously horned up it is, but the game's base costumes for 2B and A2 sure do. 2B and A2's base Nikke outfit, Metamorphic Damage, pays homage to what happens to their clothes when you self-destruct in Nier: Automata. Self-destructing in Nier: Automata, while presented as a combat tactic, blows away their gothic lolita skirts revealing their ridiculously thin spandex.
For posterity, here's a trailer for 2B's more modest "YoRHa Uniform 1" outfit:
And for A2's "YoRHa Uniform Prototype":

Because we're the gamer's guide™, for better or worse, I'm obligated to inform you that 2B is only available via the game's gacha system. Players fiending after A2 can unlock her by reaching rank 10 of Nikke's Premium YoRha Pass, according to Tech Raptor. Pascal appears to have been excluded from getting his own fanservice-fueled trailer, which I'm not sure is a mercy or an act of robot discrimination. Much to think about.
Read More: She Convinced Men On Tinder To Buy Nier: Automata And Then Ghosted Them, She Says

But wait, there's more scantily clad sci-fi girl games on the horizon
If reading this article has made you a born-again Shift Up fan and you're wondering if the developer has any more video games of similar energy on the way that don't have gacha elements —First off, very specific ask. But, yes, it does. Stellar Blade, formerly known as Project Eve, is a sci-fi character action game about a woman named Eve who, like 2B, battles a fleet of robots to reclaim a war-torn Earth. Stellar Blade is slated to release later this year as a PlayStation 5 exclusive.