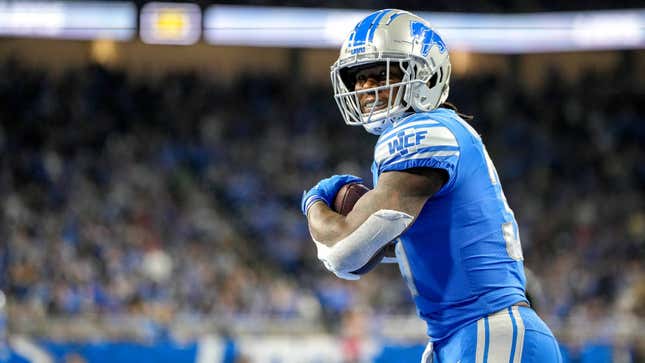 NFL pro Jamaal Williams started 2023 right: By beating the hell out of the Chicago Bears and coming out in a post-game interview as a huge weeb gamer. He wasn't just willing to admit that he played Pokémon like the rest of us, he was ready to defend its honor in front of a clueless reporter.
Spirittea Is Stardew Valley Meets Spirited Away, Can Take Our Money Now
Williams is a running back on the Detroit Lions, which means two things: He has mainstream legitimacy, and he can probably beat you in a 100m dash without breaking a sweat. Neither of which I can really identify with. But nerds like me can finally find common ground with him in two aspects: He likes the Naruto anime, and he'll judge anyone who lacks basic Pokémon literacy.
After beating the Bears 41 to 10 on New Year's Day, Williams was being interviewed by a sports reporter and looking incredibly fly in a Naruto sweatshirt and headband. Everything was going well until he said that he "just [wanted] to go home and play Pokémon" after admitting he didn't watch TV, and therefore missed Green Bay Packers quarterback Aaron Rodgers talking smack about the team (the Lions beat the Packers this past Sunday, by the way). Williams made the mistake of assuming that the average American would know about one of the biggest gaming franchises on earth. We've all been there.
Unfortunately, the reporter was clearly not a Kotaku reader. "Pokéman?" he asked.
"Pokémon," Williams hastily corrected. "Don't do that. You can't disrespect Pokémon like that. Pokeman?"
"'Mon," the reporter corrected, but it was too late. He forever solidified his image as a normie. Desperate to redeem himself, he added: "I got my nephew some Pokémon cards. They're kind of a big deal."
"I don't know what cards you've got," Williams replied. "They must've sucked. Because you're calling them Pokéman." Go off, king. Kotaku reached out to Williams to ask how long he's been a Pokémon fan, but did not receive a response by the time of publication.
His nerd antics didn't stop at that interview. On January 8, the self-proclaimed "Swagg Kazekage" introduced himself as "the leader of the Hidden Village of the Den." 'Kazekage' is a reference to the leaders of the ninja villages in Naruto, and the "Lion's Den" is a nickname for Detroit Lions' players and fan community. A clip of his introduction was posted to the NFL Twitter, which feels slightly unreal to me. Did you know that the NFL has 32 million followers? Well, now you do.
Naruto and Pokémon are mainstream now, and there's nothing that you can do about it. So don't go around calling it Pokéman.