A batch of new, free, 3D games have shown up on the Zune Marketplace for the new Zune HD. How do titles like Audiosurf and Project Gotham Racing fare on Microsoft's handheld?
A total of five new titles appeared in the Zune Marketplace recently, each taking advantage of the HD version of Microsoft's handheld's increased 3D capability, touch screen controls, and accelerometer functions. Let's take them for a spin, shall we?
Audiosurf Tilt
The Zune HD version of the exceptional Steam PC game, Audiosurf transforms the music on your Zune into a rollercoaster obstacle course, challenging you to gather points on the track by tilting your Zune back and forth, avoiding obstacles. It's a rather simplified version of the original game, with no special modes. Just collect dots, and spend them on new track decorations. It does, however, come with a song visualizer that should be a bit hit with folks who hook their HD to the television set.
G/O Media may get a commission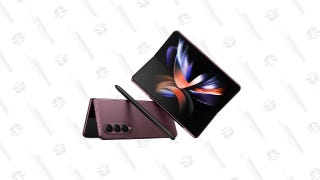 Save Up to $300
Galaxy Z Fold4
Checkers
Checkers is Chess for those who'd rather not think too much, and the game fares as well as you'd expect it to on the Zune HD. Multiple difficulty settings for playing against the AI should provide a challenge for anyone with a Zune HD who wants to play a board game. Touch screen controls handle nicely. I can't really complain.
Lucky Lanes Bowling
A simple little bowling game with a lot of personality. Crazy characters bowl down even crazier lanes, tracing the path of the ball with your finger and then letting fly. You can unlock new characters and lanes as you play, or challenge friends in Wi-Fi mode. It's small, cute, and free. Works for me.
Project Gotham Racing: Ferrari Edition
It's no PGR4, but it gets the job done. The Zune HD version of Project Gotham Racing showcases the Ferrari, with 12 different models to choose from and 33 events to play through in career mode. The game runs quickly and smoothly, with the tilt function of the Zune HD used to steer and on-screen buttons for breaking and accelerating. Like PRG, the player earns Kudos for how well they drive, using them to unlock new cars along the way. Certainly a capable little racer, and the price (free) is hard to beat. If you've friends who own Zune HDs, you can even play multiplayer. Check out a bad video of it in action below.
Vans SK8: Pool Service
Tilt to move and touch to trick, Vans SK8: Pool Service is pretty much the same thing as the iPhone version. If skating around a pool is your idea of a good time, then this is for you. Otherwise, it's a nice example of how the Zune HD can do just about anything the iPhone can do, only slightly smaller.
All in all this is a fine crop of titles that show, if anything, that the Zune HD has the ability to take on the iPhone from a gaming standpoint. What it doesn't have is the popularity. Will it ever achieve the level of love the iPhone has received? Doubtful, but Microsoft is putting on a good show.