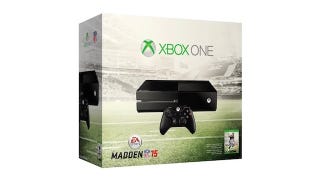 Microsoft is launching at least two new Xbox One Bundles this year. The first will feature Madden NFL 15 and no Kinect, and ship August 26 for $399 alongside the release of the game. It also includes three Ultimate Team Pro Packs. [Madden 15 Xbox One Bundle]
The second bundle includes Sunset Overdrive, and doesn't have a price point or release date yet, though it will probably hit on October 28th to coincide with Sunset Overdrive's release. Perhaps the most exciting tidbit here is that the Sunset Overdrive Bundle will include a white Xbox One.
We'll update when more specifics about the Sunset Overdrive Bundle come out or if it becomes available for preorder.
---
This post is brought to you by the Commerce Team . We operate independently of Editorial, and if you take advantage of a deal we recommend, we may get a small share of the sale. We read the comments, and we want your feedback.