The latest Story Bundle features an awesome selection of books, magazines, and albums.
This collection is curated by industry veteran Simon Carless and features seven books, six magazine issues and two full-length albums. We're also proud to feature the gaming non-profit SpecialEffect as a cause you can donate to when you purchase a bundle. As always, all our books and music come DRM-free. Read more.
---
The Sony Gold Wireless Headset is one of your six contenders for the best , and probably the best option for dedicated Sony console gamers. [Sony Gold Headset, $80]
G/O Media may get a commission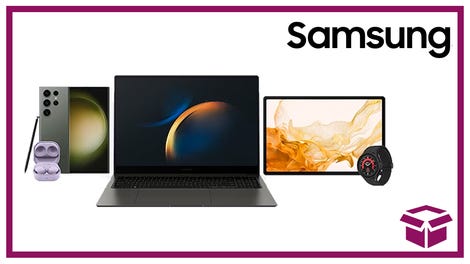 24 hour deals
Discover Samsung - Daily Deal
Update: $5 less on Newegg
The Limited Edition White Model is also up for preorder.
---
Still standing by for Titanfall? Today's a good day to step into the cockpit.
---
Get these deals and more, and earlier on Deals.Kinja. Connect with us on Twitter and Facebook to never miss a deal, check out our Gaming and Movie/TV release calendars to plan your upcoming free time, and join us for Kinja Co-Op to vote on the best products. Got a deal we missed? Post it in the comments with a link and we'll share right to our Deals homepage.
---
If you own an Xbox, here's a no brainer for you. $45 gets you a $50 Xbox gift card, plus two free movie tickets (up to a $13 value each) to use through Fandango. [$50 Xbox Gift Card Plus Two Free Movie Tickets, $45 with code EMCPBHW24]
---
Four HDMI cables, three velcro ties, and a right angle adapter for $9. Don't think, just buy. [ Twisted Veins HDMI Pack, $9]
---
Honestly, what do you have to lose here? [ 100 Velcro Cable Ties, $6]
---
It might look like a car key, but this unassuming Monoprice keychain hides a stowaway 6" MFI-Certified Lightning cable for Apple devices, and you can get it for 10% off the usual price today, plus an additional $5 off for new accounts when you buy two with code NEWS5.
Granted, it's only $13, so today's special discount isn't huge. But if you're like me, you probably didn't know this product even existed until now, so this is a good excuse to check it out. While the cable should work for charging or syncing anywhere, its size is perfect for pairing with an external battery pack like the ever-popoular Anker Astro E3 ($26 right now), or this smaller one from SCUD ($10 with code O3OODUIB)
Oddly enough, Monoprice doesn't make a Micro USB version of this product, but here's something similar for Android and Windows Phone fans. [Monoprice]
---
A good fire chest is essential for protecting important documents and irreplaceable keepsakes, and this highly rated SentrySafe model is only $16 right now. Whenever we post these, they tend to sell out quickly, so act fast. [SentrySafe 1200BLK Fire Chest, $16]
---
We haven't found evidence of a particular promotion, but several highly-rated Cuisinart kitchen appliances are down to their lowest prices ever today.
Cuisinart ICE-100 Compressor Ice Cream and Gelato Maker ($212) | Amazon
Cuisinart 726-38H Chef's Classic Stainless 14-Inch Stir-Fry Pan with Helper Handle and Glass Cover ($25) | Amazon
Cuisinart CCJ-500 Pulp Control Citrus Juicer ($21) | Amazon
Cuisinart CBK-100 2-Pound Programmable Breadmaker ($71) | Amazon
Cuisinart DFP-14BCN 14-Cup Food Processor ($136) | Amazon
---
We don't often give apparel deals top billing here, but $45 off any $100 order at Gap is definitely worth highlighting. [$45 off a $100 Purchase, promo code BDAY]
---
You've nominated your favorites, and now it's time to vote. What's the best electric razor ?
---
Games
Peripherals
PC
PlayStation 4
Xbox One
PlayStation 3
Xbox 360
PlayStation Vita
iOS
Android
Toys
---
Media
---
Tech
Home Theater and Headphones
PC Parts
---
This post is brought to you by the Commerce Team. We work together with you to find the best products and the best deals on them. We operate independently of Editorial, and we want your feedback.