Capcom made it official last week that Street Fighter IV was coming home, confirming that the arcade version would be ported to the Xbox 360, PlayStation 3 and Windows-based PCs. Speaking to Street Fighter IV producer Yoshinori Ono at Captivate 08, we learned a bit more about Capcom's plans for the home versions.
The Week In Games: Fishing For Mysteries And Gang Wars
As Ono and crew already specified, the Street Fighter IV home conversion with feature characters not seen in the arcade version as well as online internet play. Ono stressed that the two characters not in the final arcade version who showed up in preliminary art form, Dan Hibiki and Fei Long, are not yet confirmed to appear in the console version. He told us that the team simply hasn't decided yet who will be added to the roster and that SFIV artist Daigo Ikeno "is still working on many designs."
G/O Media may get a commission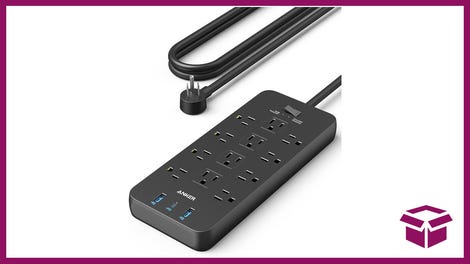 28% Off
Anker Power Strip Surge Protector
As for what features we can expect, Ono often mentioned the SNES version of Street Fighter II, in its multiple incarnations, as something the team was striving to match. Maybe not in terms of feature set, but that they're hoping Street Fighter IV's home version will be as popular amongst console gamers as its '90s predecessor was.
Ono revealed that the home versions of Street Fighter IV may see the return of bonus levels, the kind that led to much car and barrel destruction in SFII. As for the arcade version, Ono says don't count on it. He chalks it up to capitalism, noting that due to the high cost of the SFIV arcade set up, time spent kicking steel drums or smashing in headlights is money out of arcade operators' pockets.
One other goody that the console and PC ports are expected to get are fully animated endings for each character. While the arcade version of Street Fighter IV features simple still frames—something Ono chalks up to budget limitations—the console follow ups will be packed with more cinematic endings, said to be produced by an unnamed, but famous anime studio.
Ono showed off one animated sequence early in the day, one that featured Ryu, Akuma, Ken and a man who appears to be Gouken in a dramatic battle rife with flashbacks and over the top attacks. The SFIV producer mentioned that this particular sequence was not going to be included in the final version, but was limited to media events, possibly to give us an understanding of how the final product will look.
Those anime-style port-exclusive clips will help flesh out the Street Fighter storyline, according to Ono, giving us insight into plot points such as the return of M. Bison.
Arcade purists will be happy to learn that Capcom plans to ship an "arcade perfect" controller in time with the console and PC versions. Ono revealed that they're already in talks with a peripheral maker in the U.S. to release an arcade accurate stick with a steel base plate, steel shaft and arcade style buttons, possibly bundled with a copy of the game.
For a look at the animation sequence we saw at Captivate 08, check out a few stills in the gallery below.