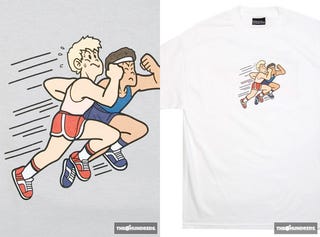 Top shelf streetwear label The Hundreds is tapping the NES collector curiosity Stadium Events—which fetches a pretty penny on eBay these days—for their spring line of tees, a classy and understated reference from the Los Angeles based brand.
Why "classy"? Well, as a video game shirt, it doesn't crack wise with a pun, nor does it make homage to the easily recognizable 8-bit era title. As a streetwear entry, it's delightfully lacking in "We runnin' things" caliber tough guy statements. A fairly straightforward implementation, yes, but I wish I'd thought of it.
If you're the rare crossover fan of both Stadium Events and The Hundreds brand of California lifestyle streetwear, you'd better make your way to one the company's flagship stores to grab one. As part of the Rosewood Collection, they're "exclusively available at our [Los Angeles] and [San Francisco] locations." Have a friend do a pick up for ya!
ROSEWOOD COLLECTION [The Hundreds]