Japanese police are currently scouring the country for a 19-year-old YouTuber. His alleged crime? Stealing snacks and fizzy drinks as well as poking holes in food packaging.
Update: The teen was finally captured and arrested. According to Mainichi News, however, it's now believed that the suspect faked the shoplifting, by apparently bringing his own pre-bought items to fake shoplift.
And to help pay for his escape, the teen said he sold his Nintendo handheld. Desperate times call for desperate measures!
Since December, a Japanese YouTuber, Narukami 793, has been uploading clips of his alleged thefts. The footage shows that he's stolen many things.
G/O Media may get a commission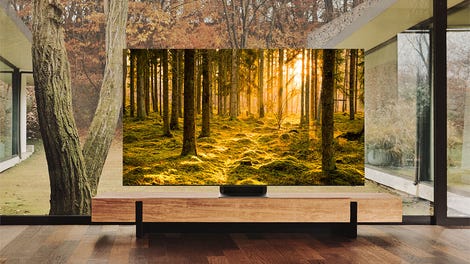 Up to 40% off
Samsung Smart TVs
Like Fanta.
Or, um, Melty Kiss fruity strawberry chocolate.
Or a bag of potato chips. That cost 95 yen, which isn't even a dollar.
In the videos, which he labels "manbiki" (万引き) or "shoplifting," he usually shows the store and films himself as he seemingly steals the snacks. His face is not shown in any of his videos. In all the clips, he's constantly talking, either saying what he's doing in a blow-by-blow account or providing his own rationale as to why he's doing it—which seems to show how easy it is to shoplift.
Sometimes, you think he's going to take several snacks.
Usually, it's only one.
When not stealing things, he's allegedly causing mischief like sticking holes in snack packaging with toothpicks or poking holes in packaging (the "mischief" being that another customer might buy the snack and discover the poked hole and the toothpick and complain). That's why he's now known as the "toothpick boy."
The YouTuber has repeatedly uploaded videos of shoplifting in Tokyo, getting tens of thousands of views. His toothpick "prank" video racked up over 800,000 views, while his recent candy bar video netted well over 700,000 views.
In Japan, 19-years-old is still a minor. If arrested and found guilty, the assumption is that he'd be tried as a juvenile. Since last month, Narukami 793 also uploaded videos that apparently show his probation officer for previous indiscretions. Perhaps that's why the police haven't had much difficulty in figuring out who Narukami 793 is?
[Photo: tmoshi0730]
Security camera footage has also proved valuable.
TBS reports that a warrant has been issued for his arrest. This story exploded yesterday when the toothpick video went viral. When the police started to get involved, the teen bolted via train and continued uploading videos as he rode the train and walked on train platforms.
"I have 70,000 yen, so I'm going to flee by train," he said in one video. Seventy thousand yen is $600.
[Photo: FNN]
"To get money to escape, I sold a Nintendo 3DS and I got this [cash]," he said in one YouTube video (via FNN). He also showed a receipt that said it was a New Nintendo 3DS that he sold it for 11,000 yen ($94).
[Photo: FNN]
The story has gone national. Police and the media are engaged in a manhunt for Narukami 793 and have been using locations in his YouTube videos in an attempt to find him.
[Image: FNN]
However, some videos, it seems, were filmed at locations to throw off the police in their search or uploaded long after he'd left. He's also been posting new shoplifting videos. Currently, it's believed he's in Aichi Prefecture.
[Image: FNN]
On the run from the law, Narukami 793 has been also uploading videos of himself checking out news stories about his crimes and looking at YouTube. In one he says, "If you open YouTube, that's me at the top."
To recap: the biggest news story in Japan is about a national manhunt for a kid who allegedly steals chocolate bars and pokes holes in snack containers, and puts his petty crimes on YouTube. I'm sure glad nobody is overreacting.
Top photo: Narukami 793
To contact the author of this post, write to bashcraftATkotaku.com or find him on Twitter @Brian_Ashcraft.
Kotaku East is your slice of Asian internet culture, bringing you the latest talking points from Japan, Korea, China and beyond. Tune in every morning from 4am to 8am.