You know what Temple Run is missing? Kids with guns.
The endless runner continues to run amok through the various mobile gaming platforms, with fresh new variations popping up every time you swipe the screen to turn. It's a genre that flourishes on mobile because of its flourishes—just a series of simple finger swipes gets the job done. Give an endless runner a loose premise and some in-app booster items, toss it into an app store and wait for the money to start rolling in.
At least that's how it worked in the beginning. Now there are dozens of these games in iTunes, and it's getting harder and harder to stand out in the crowd. You've got to make some noise. Gaijin Entertainment's Run'N'Gun for iOS lets its bullets do the talking.
Set in a fairy tale land inspired by the stories of the Brothers Grimm, Run'n'Gun features five heroes (six if you count the twins as two) chasing after some nasty bank-robbing goblins. The term 'heroes' is used loosely here, as the goal is to collect the loot the goblins drop in order to purchase power-ups and unlock new characters. That's not very heroic at all, now that I think about it.
Aside from being a quality game with a great deal of character and charisma, Run'n'Gun sets itself apart from other running, jumping, ducking and turning games by adding gunplay to the mix. As you bob and weave through lovely fairy tale locations, you're also attempting to keep the bad(der) guys in front of you so you can shoot the gold right out of them (gameplay video courtesy iGamesView.com). Shooting is an automatic process, so it's no more complicated than any other endless runner—it's just nice to have more going on than third-person parkour.
Run'n'Gun blasts its way through the endless sea of endless runners to offer much more than another copy of Temple Run. I think I'll keep it.
G/O Media may get a commission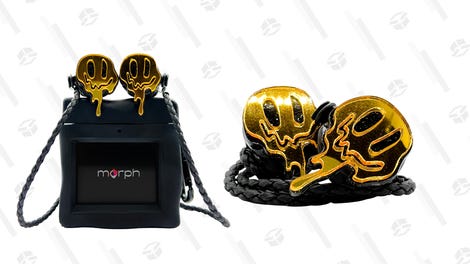 morph audio
Morph Earphones
Run'n'Gun — Free [iTunes]