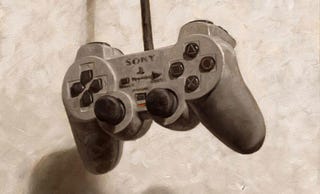 August is nearly over, and what do we have to show for it? Among other things, another week of good Kotaku stories. I recommend reading (or in some cases viewing) these:
A few other highlights: 1) A lovely pair of stories from Patrick and Nathan that both demonstrate the potential for gaming to make people feel good, 2) A pair of reviews by Luke that read as if they're written by a smart, helpful friend—an ideal tone, 3) And a pair of stories, one by Nathan, one by me, that spotlight the ceaseless ingenuity of dedicated game creators and fans, respectively.
Most useful article we published last week: Andras' rundown of all the big games coming out later this year. Budget your time and money accordingly!
Best headline of the week: So, I Fought the Boss with a Trillion Hit Points
Best GIF of the week, from Kirk's thoughts about his first time playing Final Fantasy VI:
Best new hire of the week: Mike Fahey, a relative newcomer to the site. He'll primarily be editing weekends for us as well as making videos about snacks, toys and the first five minutes of video games.
Got thoughts about what we published last week or about stories you'd like to see on the site? Let me know.
To contact the author of this post, write to stephentotilo@kotaku.com or find him on Twitter @stephentotilo.
Top image is of a painting by artist Randy Gallegos, whose work was Luke recently highlighted.