The date is April 19, 2021. In my bizarre alternate dimension, it's LeBron James' first playoff game as a Philadelphia 76er.

This piece originally appeared 6/5/15.
A blockbuster trade the season earlier saw the Sixers give up a top pick for the 34-year-old. But the team still missed the playoffs. A year later, LeBron is no longer the star of the show. The new star is free agent signing DeMarcus Cousins, whose massive contract and big expectations were the reason Philly mortgaged its future for King James.
But LeBron really isn't even the second-biggest star on the team anymore. That would be second-year wing Dominique Wilkins. In one of the more remarkable draft hauls, Philly acquired him and The Admiral, David Robinson, who was later traded to Miami to get LeBron.
G/O Media may get a commission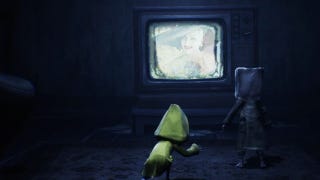 Horror Video Games to Play Leading Up to Halloween
Spooky and scary
Something video games have over their film counterparts when it comes to horror is the player's agency. Sure, watching the slasher claim their next victim can get a jumpscare out of you, but you know what's scarier? Knowing you had the power to stop it. Watching someone slowly open a door and enter a dark room is unnerving, but having to do it yourself will send shivers down your spine and paralyze you with fear.
Okay, this might need some clarification.
I'm in the ninth season of an NBA 2K13 Association. That's a mode in the 2012 video game in which you serve as a general manager for a team for years and years. I've invested a huge amount of time into this. I've been playing almost every day for over a year now. And I'm not playing the way you're "supposed" to.
Start up these games and 2K wants you to create a single player and play just for an entire career. Nah, screw that: I'm playing Association mode.
I'm playing as all 30 teams at once. I set up the teams and run through a season in my PC copy of 2K13, virtual basketball game after virtual basketball game.
In the regular season I play one game per virtual week, then let the computer simulate the rest. I usually just pick a game with teams I haven't haven't played in a while, and play as the road side, as it's a little bit harder. In the playoffs, I play one game of each series in the first round, two in the second, three in the Conference Finals, and three or four in the Finals. I alternate between teams during the playoffs but try to end up playing as the team I think should win in the elimination matches.
I am modding and editing the ever-loving fuck out of this game, a process that includes a Russian tool that seems a half-step more reputable than a deposed dictator's family member looking for banking info.
I'm not playing with a static roster. I'm importing both future and historical draft classes. I'm making trades every season. I've got Magic Johnson on the Hawks, Clyde Drexler on the same team as Chris Paul. I've got Len Bias on a team in one of many what-ifs made possible by what I'm doing. Hell, I brought back the Sonics. Think all of that is odd? I had the Knicks win the championship....almost.
Things look very different by my version of the NBA in 2021. LeBron never leaves Miami for Cleveland. In 2018, he brought the Heat another championship in 2018 when Rajon Rondo joins James and Dwyane Wade and James for one final hurrah.
This might sound like bad news for Cleveland, but the Cavaliers picked up Rasheed Wallace and Michael Jordan in consecutive drafts, making them the heavy favorites in this these playoffs. They're doing all right.
In Seattle—yes, Seattle, where I moved the Bobcats, because the uniforms are so much better—Karl Malone and Kemba Walker are set to lead the Sonics against the Thunder, the West's best team for the past the decade. Kevin Durant's Thunder supporting cast has changed. It's now Jrue Holiday and Kurt Rambis. Seattle wants revenge.
Further south along the Pacific, the defending champion Golden State Warriors are inexplicably sitting at home watching the playoffs, despite maintaining their core of Steph Curry, Paul George, and Kevin Garnett. Some things are predictable in this simulation. The Warriors? Not so much.
So what's changed, and what cocktail of mods, editors, and simulation has brought me to the point where Larry Bird and the Dallas Mavericks are battling James Harden and the Memphis Grizzlies every year in the West?
Let's look at this year by year, mod by mod. I'd like to go back to the beginning, to talk through the wild last decade of my simulated NBA.
2012-2013: Miami Rolls
I started this season in the fall of 2013, after the actual events of the previous season of NBA basketball. NBA 2K13 managed to successfully predict a second Miami Heat championship, with MVP LeBron & Co taking the trophy, just like they did in real life. The team they beat in my game was not San Antonio, but the Oklahoma City Thunder, a rematch of the 2012 Finals.
What happened to the Spurs? For whatever reason, NBA 2K13 didn't like them at all in its simulation. The game does a great job of modeling stars getting statistics in games. But for players like Tony Parker, for whom just the threat of his speed driving into the lane changes defenses? Or coaches like Greg Popovich, whose policy of resting players hit the peak of controversy that year, but has since largely been proven a valid process? Press that "simulate game" button and San Antonio ends up with a 7-seed in both the '13 and '14 playoffs, then collapses for three years. Figuring out how to make the simulation behave has consistently been one of my primary goals.
2013-2014: Suns Win, Draft Sir Charles
The Dwight Howard Sweepstakes consumed the off-season in 2013, and does so here again. But the real winners—the Houston Rockets—can't even compete in the game. Why? The bizarre poison pill Omer Asik contract didn't actually work. So the Phoenix Suns end up landing the star center. The Suns also trade for Eric Bledsoe—a trade that makes sense all-around—and their big three of Howard-Bledsoe-Dragic storms through the Western playoffs and then beats the Heat in seven. That would have been a damn fun series to watch.
After winning the championship, Phoenix drafts...Charles Barkley.
Yes, this is legit. First, they get the draft pick from Minnesota—in 2013, Phoenix traded Luis Scola to the surprisingly playoff-bound Timberwolves for their draft pick the next season. NBA 2K13 doesn't allow pick protection, so when Minnesota collapses in '13-'14, their third pick went to Phoenix.
As for getting Charles Barkley, the mod I've downloaded (skoadam's URB) includes almost every draft class between 1985 and 2014, which I import each year instead of using the, shall we say, mildly disappointing random draft classes that the game offers. My plan has been to add the real draft classes from their real years for the first two years: Gobert, Oladipo, Wiggins, and Parker, etc. Then I switch between the oldest class available, starting with '85, then the latest draft class available that doesn't include players still in the league—which ends up being 1995. So ideally I'll have a league with a fantastic mix of different players and styles—1985's Karl Malone going up against 1995's Kevin Garnett, and 2003's LeBron James guarding 2014's Andrew Wiggins.
The big problem with that?, Many of the biggest stars of the '80s and '90s were drafted before 1985. The Dominique Wilkins I mentioned on Philly is one of those. So are Charles Barkley, Larry Bird, Isaiah Thomas, Magic Johnson, Clyde Drexler, and Hakeem Olajuwon. Oh, and Michael goddamn Jordan. And then there are the memorable players and not-quite-superstars: Worthy, McHale, Parish, Eaton, and more. So every year I add a superstar from the early 1980s and another great player: Drexler (who goes to the Clippers) and Parish (Bobcats) in the first season. For the 2014 season, I add Barkley and Stockton (Jazz). If you think this might unbalance the teams later on....well, you're right.
Interlude: My Mysterious Russian Helper
If you're wondering how I'm copying and pasting individual players into draft classes...that's where things move beyond "weird" and into "oh shit am I getting scammed?"
The best character editor for NBA 2K13 is called RED MC, and it is one of the strangest pieces of software I have ever used in 20-odd years of dealing with strange things on the Internet. First off, RED MC is like a FarmVille developer's dream: it will nickel and dime the fuck out of you. Go to the website (that much is safe) and you're given not the opportunity to buy the editor, but a video explaining how to buy the editor. The prices in the screenshot here are 20% lower than the ones I bought, but yeah: wanna edit teams? $2.50. Jerseys? $2.00. Saved games? $5.00. Arenas? $1.00. (I ended up investing $15 or so on RED MC's editing pieces—which is actually more than I spent on the game itself; I got that in an Amazon sale for $10.)
So after figuring out which a la carte pieces of the editor you might want, you PayPal the amount to "Vlad," who is, yes, Russian. At some point in the next few days Vlad will process your PayPal and email you a code that looks like this:
You paste this into RED MC and ta-da! The things you wanted to be unlocked should be unlocked. If not, well, time to email Vlad again.

I should also note here that both my anti-virus software and anti-malware software have red-flagged the RED MC executable file as being horrible for my computer, including it being automatically quarantined when I try to run it. The software most certainly works, and I haven't noticed horrible Trojans on my PC, but I still feel like Jaime Lannister holding my computer on a windowsill deciding to use the editor: "The things I do for love."
I've made the investment of both paying for the software and time spent learning it. I'm still playing NBA 2K13, so it's worth it. Some of the things RED MC can do with the game are pretty amazing, and I'll mention them throughout. But it can certainly copy players into draft classes. That can lead to a draft class that looks like this: 1. Jabari Parker (Washington) 2. Joel Embiid (Cavaliers) 3. Sir Charles (Phoenix) 4. Andrew Wiggins (New Orleans). Yes, that's Wiggins joining Anthony Davis in New Orleans. And yes, that team gets "holy shit" levels of good in a couple years.
2014-2015: Celtics Surge
This is the point where we leave "interesting simulation" and enter full-blown alternate history. To wit: in 2013, Rajon Rondo tore his ACL, triggering a massive rebuilding for the Boston Celtics, where they traded Kevin Garnett and Paul Pierce quickly, and several other veterans over the next couple seasons.
One question this Association supposes is...what if Rondo didn't hurt his knee? With their best three players intact, Boston wins a playoff series and still looks like contenders.

Kevin Garnett retires after the next season, but the Celtics are still good. They have enough good players and enough young ones (primarily Jared Sullinger) to be aggressive on the trading market. Andre Drummond is unhappy in Detroit, so Boston mortgages their future to win now, acquiring the big man. Meanwhile, the Miami Heat's three superstars decide to do something totally different from reality as well, all opting into the last season of their contract. But LeBron gets injured in the middle of the season, keeping the Heat's playoff seed low—so they face Boston in the first round. Miami wins the first two games on the road, but the Rondo-Pierce-Drummond Celtics catch fire and crush the Heat in the next four games.
Boston goes on to beat the Bulls and the Nets in the East. In the Finals they face the Oklahoma City Thunder, who, with a healthy Durant-Westbrook-Ibaka core, have cruised through the West (beating those talented Hornets in the conference finals). Oklahoma City cruises again, beating the still-viable Celtics. In reality, the Thunder are starting to look like the dynasty-that-never-was. In the game, they've achieved their potential.
With the season over, I prepare the first historical draft class from 1985. With Patrick Ewing, Karl Malone, and Chris Mullin, this is a talented group and will definitely give my Association the historical flavor I'm looking for (added players: Magic Johnson and Bill Laimbeer).
In order to make this all work, though, I'm super indebted to skoadam's historical roster mod, URB. Over at the NBA-live forums, skoadam is the leader/curator of an NBA 2K13 mod community that's still viable largely due to his work. His collection is built around several files which transform the game into the NBA of a distinct era. There's a 1985 mod, a 1993 mod (which I played for a couple seasons before it crashed and I switched to this Association), and a current-day mod, among others. The amount of time he and the people he works with have invested is astonishing—all the more so because URB is still being updated.
Skoadam's mods are total conversions: this means draft classes, player faces, jerseys, arenas, and even shoes. Trying to add aspects of these things in bits and pieces often means awkward compromises, but these mods make it work.
The modding process for NBA 2K13 is still going on—despite the release of two NBA 2K games since then—for two reasons.
First, a significant number of fans think that NBA 2K13 has better actual basketball feel than the later games (particularly the awkward ball physics of 2K14 and 2K15, as far as I can tell.)
Second, that publisher 2K didn't give a shit about the PC version of NBA 2K13. The multiplayer via Steam, for example, only has random pairings and is essentially useless for trying to play against a friend. That benign neglect has led to the game being remarkably open for modding. The game's relevant files aren't packaged in some mega-file, but are individually locatable and editable. The jumble of files includes essentially every graphic in the game, like player faces, jerseys, and shoes, or arena floors, crowd members, and courtside ads (one of the most ridiculously fascinating mod forms: people modding correct advertisements into their game, so real beer companies get in the game for free!).
All of these can be edited, and, with something like RED MC, new things can be added. So if I want to change every arena in the game to the 1985 version, alongside the 1985 draft class, well, using skoadam's mods and the editing software, I can. Now things are fashionably retro with fades and mustaches. All it takes is that time investment.
There's even a 1990s music mod, by the way, if you can stand listening to "I Believe I Can Fly" 15 times a week. I can't. But maybe you can.
2015-2016: Anyone But The Hawks
The worst team in my nine seasons of the Association is the Atlanta Hawks. In the first season, they had no respectable middle-of-the-East finish. In the off-season, there was no bargain-basement Paul Millsap signing. Instead, the team slowly got dismantled for draft picks. First Horford to Denver, and Korver to Memphis. The next season, Josh Smith is traded to Toronto, and Jeff Teague goes to the Grizzlies. The picks and players Atlanta received certainly look good individually—Magic Johnson was their draft pick in 2015, and Nerlens Noel, Charles Oakley, Dario Saric, Dennis Rodman, Lamar Odom, and Kevin Johnson make for a good draft haul. But they never click—it takes the ninth season and trade for John Wall to turn the Hawks into a playoff team.
In reality, Atlanta seems to be setting up a top-tier Eastern Conference team, a new elite franchise to replace the Heat and the Pacers. But no such team appears in this Association. Miami manages to re-sign LeBron, but they lose Chris Bosh to the Knicks, who, with youngsters Ben McLemore and Julius Randle, turns New York good. Another good team: the Brooklyn Nets, who are involved in the biggest trade of the Association so far, a three-way big-man-and-pick swap that has them end up dealing Brook Lopez for Kevin Love and a Warriors draft pick—a draft pic that, when Golden State falls apart, turns into Patrick Ewing. (Don't feel too bad for Golden State, though, as they flipped Lopez to Orlando for a pick that became Kevin Garnett.) But while Brooklyn may have had stars, only Kevin Love was actually in his prime. They're another good but not great team.
The opposite of the disastrous Hawks run is the one enjoyed by my game's Chicago Bulls. Despite never adding a superstar, and even though Derrick Rose is set to decline, Chicago consistently plays well, winning a playoff series in seven of the nine seasons so far. Somehow—likely through the coaches—NBA 2K13 manages to model organizational consistency in some of its franchises, which is one of the best ways to predict the future in the league. The Western version of the Bulls in this run is Memphis, which regularly makes the playoffs over significantly more talented teams (and keeps well-regarded coach Lionel Hollis. There's no "butting heads with the GM" aspect to this simulation).
An odd parallel to the Bulls in the first four seasons is the Philadelphia 76ers. While they're currently famous for their strange and probably unhealthy commitment to tanking over the last few seasons, NBA 2K13 doesn't agree. With Doug Collins coaching, a good young core of Holliday and Turner, and Andrew Bynum before we knew he was a complete disaster post-injury, the 76ers stay good through the first four seasons of the simulation. In the 2016 playoffs, they take a look at the parity-riddled Eastern Conference and somehow decide that this is their year, slugging their way into the Finals. In the West, the Oklahoma City Thunder fight off the young Hornets and the Grizzlies, and make their way back to the Finals. The 76ers prove no match for the Thunder, who repeat as champions.
Interlude: The New Sonics, Plus... Andrew Higgins?
At the end of the 2016 season I decided to invest more energy into my editor. RED MC can do some pretty wild things, if one is careful enough. First up: conference realignment. Around this point the NBA realized what most of us already had: the Bobcats just aren't that interesting. But, thanks to some of the historical teams in the game, the Seattle Supersonics are available, with announcers saying their name and everything. So too are the Charlotte Hornets, so I swap those two teams from the West to the East. (With the Hornets' core of Wiggins and Davis, this basically has the effect of balancing the two conferences by switching a major power from left to right.)
Karl Malone is a Sonic, of course.
I also invest a perhaps incredible amount of time making the rest of the game sound good. Getting the announcers to say the names consumes a lot of my time: using the editor to get the right players with the right variables behind them, and nicknames for the ones that aren't in the database.
Here's what RED MC looks like. And how I fiddle with player names (click in the top left corner of the image to expand it):
I want the announcers to say "Wiggins", but there's no Wiggins in the announcer database, so it'll never get said.
There is, however, a Higgins. I know who he is, so Andrew Wiggins is going to have to be Andrew Higgins.
There's nothing remotely close to "Embiid", so he gets a Create-A-Player Nickname - The Bodyguard
I also take the time to edit music—the mix tape process is surprisingly intricate and fun—and jerseys, to cram as many uniforms as I can into the game.
If I'm playing for 18 months, why not make that investment?

2016-2017: Things Get Weird
This is the strangest season of the entire Association, but I have an easy explanation as to why: I've simulated the entire season. The eighth-seed Denver Nuggets (core: Brandon Jennings, Danilo Gallinari, Al Horford) defeat the sixth-seed Brooklyn Nets in the Finals.
The inconsistency of the simulation, particularly certain franchises, remains my biggest point of annoyance about the sim side of NBA 2K13. It's not about getting things historically right, although that helps. It's not simply about how no team that has Magic Johnson and good players should miss the playoffs five straight seasons. It's that it hurts the emergent narrative of the game as it unfolds. In the West, the Rockets, Warriors, and Clippers all fail to match their real results in the first couple years—L.A. adds a young Clyde Drexler to their Chris Paul-Blake Griffin core and still misses the playoffs almost every season. How does this work, or why doesn't it work? I don't know, and the times I've come closest to stopping this Association are when that question becomes most important.
As I've mentioned I don't normally play every game. My process is this: during the regular season, I invest the time in an interesting-looking game, then simulate a week. I keep an eye on the in-game Power Rankings as they tend to be a decent way to see the in-season stories of the league, like which teams are collapsing after injuries and which ones are surging after trades. Doing this, I can course-correct teams slightly, but I can't stop a team that's losing inexplicably. In a fully-simmed season like this one, though, results can veer into the bizarre.
During the playoffs, I play one game per playoff day. 2K13 doesn't bother with spreading the games out—every game one is on the same day, then game two two days later. This means in the first round, I'll play one game per series, in the second, two, and then probably not more than three in the next two rounds. This is enough to influence each series toward having results I think are preferable (i.e., I play a critical Game 5 and probably win with the team I want to win).
I've seen some weird things in my video game version of the playoffs. Teams have come back from 0-3 deficits twice, even though that has never happened in the history of the NBA. The number one seed has lost in the first round multiple times, which is rare. And in these 2016 playoffs, the East saw the lower seed win every single first-round match-up.
Some of this may just be the simplicity of the simulation engine, especially with games set to roughly half-length (I play six-minute quarters or sim at eight-minute quarters), which probably increases volatility. Some of it is the parity I've introduced into the game with multiple new superstars. Regardless, negotiating this is one of the dominant meta-games I play with the simulation.
2017-2018: Len Bias And The Cursed Class of '86
This proves to be the critical transitional year between the game I started with and the game I've converted NBA 2K13 into. In the former's case: this season's champion is the Miami Heat. In 2017 they traded for Rajon Rondo but still had a lower seed in the playoffs and lost. In 2018, they're a top team in the East and cruise through the playoffs with their new Big Three of Rondo-James-Wade. They take a third championship.
While the old guard has a last gasp, everything else about the '17-'18 season says that it's the new guard who's dominant now. The best team over the course of the regular season is the (now-Charlotte) Hornets. Andrew Wiggins wins the Most Valuable Player award. The team that Miami beats in the Finals? It's the San Antonio Spurs, whose free agent addition of Russell Westbrook brings them back to elite levels. Westbrook combines with holdover Kahwi Leonard and draft picks Damon Stoudamire, Bill Laimbeer, and Len Bias for a tough starting five.
Wait: Len Bias is in NBA 2K13??!?
The draft classes I've downloaded include all the players who were drafted. 1986 is a year filled with strange cases: Len Bias, who died of a drug overdose before playing; Drazen Petrovic, who died in a car crash as he was approaching stardom; Arvyadas Sabonis, who played the bulk of his career internationally before joining the NBA nine years later; and Roy Tarpley, whose promising career was severely hampered by drug addiction. What should and can I do to model these careers?
It depends on what's possible within the systems NBA 2K13 puts forth. These systems are surprisingly straightforward, if you have access to them. Almost all of the game's attributes (Speed, Defensive Rebounding, Injury Proneness) are directly editable in-game, but the only one that really matters for young players is "Potential." Potential is the number that the player's overall rating will rise toward while they're young, while their overall rating is an average of the player's attributes, weighted toward the ones that the game thinks are most important for the player's position. It's possible for a player to have a good overall rating but still not work, like having a tiny point guard with high rebounding and post stats, but this is relatively rare—good overall ratings generally mean good players. Meanwhile, there's a hidden "Peak Age" stat, only accessible with RED MC, which can be used to set when players stop improving and when they start to decline.
So what do I do with Len Bias? I could delete him from the game after the draft, sure, but that's no fun. My "what if?" alternate histories are enhanced, not ruined, by the inclusion of Len Bias, one of the greatest "what ifs" in NBA history. So I put it in God's hands: I take the time to roll some literal dice. For Potential, I roll a d20 from 74, which is the baseline "good starter" number. It's a 7, so Bias' Potential is 81—borderline All-Star levels. For the peak ages, I roll a d6 that I add from age 23. It's a four, so Bias' peak is ages 27-30. Works for me. I roll the dice for a lot of players whose careers aren't already written. Beyond Bias, there's recently-drafted players, from Bradley Beal to Joel Embiid. It's silly, but it's probably the best way to work with what NBA 2K13 offers within its systems.
Thus the 1986 draft class works out pretty well. I give Roy Tarpley a high Potential, but early Peak Ages—he'll be good, but disappointing. For Petrovic, I simply set him up to decline in the year of his car crash. Better to have him around than not. And for Sabonis (and another drafted Euro—Dejan Bodiroga) I simply let him into the game with a relatively high Injury Proneness statistic to see what happens. There may be some inflation here, but dealing with that is a constant battle at multiple levels...
2018-2019: The Poor, Poor Knicks
This is the story of how the long-suffering New York Knicks had a championship taken away.
When you mod a game this heavily, there are bound to be bugs. For example, the first Association I started with was one of URB's 1992-93 season mods. But two and a half seasons in, it stopped working. Other people had had similar crash issues, but there was no clear culprit. I've had to wrestle with certain aspects of the game—the lack of jerseys for the Rookie-Sophomore game can cause crashes in the two weeks around All-Star weekend if I'm not careful—but in general it's been smooth sailing.
Well, things go smoothly up until I try to manually save my game. For whatever reason, hitting the Save Game option in the game crashes the game instantly. Not only that, but a significant amount of the time, it corrupts the saved game it's in the middle of processing as it crashes. This, obviously, doesn't mean the game stops working—autosave works just fine. It just means that I have to be careful and make manual backups. 99% of the time, I've done this successfully. But in the process of simulating the 2019 season and playoffs, after I watched the Knicks win a championship, I accidentally hit Save Game, and lost four months of the season. Not only did the Knicks not win the trophy when I did it again...they didn't even make the playoffs.
Instead, the champions turn out to be the Milwaukee Bucks. Milwaukee is a good and deserving team. They've drafted well, with a team anchored by a prime Terry Porter and a young James Worthy. Milwaukee also signs one of my league's mercenaries, the still-good but title-chasing Carmelo Anthony. They also gamble on one of the big free agent risks of the Association: Dwight Howard after his Suns contract ran out. I'd switched Howard to finish his peak age, so he's been in decline. But his presence and skills are still sufficient for some team to take a risk, and that ends up being the Bucks, who win a championship in Howard's third year. The team they beat is the San Antonio Spurs, making a Finals return.
At this point, however, the parity issues are simply too much to bear. Milwaukee winning isn't that much of a problem—that's quite a team!—but the fact that the talented Knicks could go from "potential champions" to "lottery team" is frustrating. They're a good team, too. There are roughly a dozen good teams with championship talent and results heading into the playoffs, while a normal season might have between three and six (the current season looks like the contenders are the Cavs, Warriors, Hawks, Spurs, Rockets, and maybe Clippers, for example). It's not just the stars I've added in the draft—the league can handle that. After all, it did in the 1980s.
To deal with this, I decided to make the players worse. I do this by going into player attributes in-game, and making the big time investment of editing every stat down a certain amount. Two points means left-left-down, left-left-down, like the worst Space Channel 5 level of all time. I've been doing this systemically most years—one year, everyone from the 2014 draft class goes down three points. The next year, a big man from every team down two. After that, one player from each team goes down three. Poor Trey Burke went from an 88 rating to a 77 this way, but this also helped me add bad contracts to the game. I also started knocking down a point for every month of major injury, up to five. Young players with high Potential could still bounce back from that, but it would severely hurt older players.
There's a lot of manual work involved, but by this point in the Association, it was necessary. And, in the next season, it proved worthwhile.
2019-2020: That Cavs-Hornets Rivalry
Suddenly, my season has a strong narrative again! Six teams dominate the regular season. In the West: perennial powers Oklahoma City, with a Holliday-Durant-Ibaka core, the inconsistent-but-talented Golden State Warriors (Curry-George-Garnett), the top-rated Dallas Mavericks (Mullin-Bird-Gobert), and the losing finalists of the last two seasons, the Spurs (Westbrook-Leonard-Laimbeer).
In the East are two teams whose processes I've specifically tried to roleplay. With the Boston Celtics, I've attempted to recreate Danny Ainge's aggressive off-season rebuilding moves, trading declining stars for draft picks and draft picks for in-their-prime stars. At this point their latest rebuild involves trading Andre Drummond to L.A. for Carmelo Anthony and dealing a top pick to Portland for LaMarcus Aldridge. By this season Anthony has left, but another trade for Tyreke Evans gives Boston a good wing, and the Celtics sign Derrick Favors in free agency for a tough frontcourt.
Boston is behind Orlando, a team I'm playing as patient player developers. Over time, the Magic have put together what appears to be the best all-around team in the league on paper—drafting Michael Carter-Williams and Aaron Gordon while trading for Kevin Love and Brook Lopez. After several disappointing seasons, the Magic have apparently finally broken through.
As the season ends, though, two other powers catch fire and cruise into the playoffs: the Davis-Wiggins Hornets and the Jordan-'Sheed Cavaliers. These two teams have formed the most compelling rivalry in the league in the past few seasons, as the dominant Hornets have taken the top seed the past two seasons where they've played the somewhat underachieving eighth-seeded Cavs...and the Cavs, with Jordan outplaying Wiggins, have managed the upset both times. But as the third and fourth seeds, that rematch will have to wait.
In the West, the top teams move on, except for Dallas who are mildly upset by James Harden and the Memphis Grizzlies. With Westbrook in decline, the Spurs are no match for the Thunder. Memphis pushes the Warriors to the breaking point before Golden State pulls it out. In the East, the Bulls once again win a playoff series they have no business winning, upsetting the Celtics. The other powers pull through. Then the Cavs and Hornets maintain their hot streaks and set up another chapter in their rivalry.
The Conference Finals are a bit of a dream for me, to be honest. The narratives all work: inconsistent Golden State, aging Oklahoma City, rising Cavaliers, dominant Hornets. Plus it has four of the best wings in the game, from four different mini-generations: Kevin Durant, existing star, against Paul George, currently a budding star. And in the East, historical mega-star Michael Jordan faces off against potential superstar Andrew Wiggins. It's the big men who win out—Charlotte takes revenge on Cleveland for two years of upsets, as Anthony Davis finally leads them into the Finals. Golden State, after losing the first two games, lines up behind Kevin Garnett and wins the next four. That hot streak continues in the Finals, with the Warriors sweeping the Hornets and taking their first championship.
May 3, 2021: The Present, More Or Less
The first round of the playoffs is finished, and LeBron's 76ers are in even better shape than before. After upsets of the Hornets (missing an injured Anthony Davis) and the Cavaliers (unable to stop a dominant center like Brooklyn's Patrick Ewing), the Sixers are now the top seed in the East. And in the West, the Warriors' collapse has left a void—the Thunder are old, the Kings are young, and the Mavericks usually underachieve.
One big question: why do I play this never-ending Association in the first place? Why have I invested so much time playing and editing the game? Why do I, someone who primarily makes a living writing about strategy games and RPGs, and someone who generally prefers soccer to basketball, let NBA 2K13 take up 1000+ hours of my life? Why this instead of Mass Effect or Crusader Kings 2?
The answer is that I get the same thrill watching what might happen within a system I enjoy. It's about setting up the pieces and seeing what happens—an alternate history where Catholicism can't hold central Europe—what happens next? If I take these two characters with me on this mission, what happens next?
If I put Larry Bird and Chris Mullin on the same team as rookies in consecutive years, will they work will together, or is it too much shooting? (That'll be the Dallas Mavericks, and yes, it's worked well.)
The second part of my enjoyment is that the amount of time is controlled. While my overall time investment may seem huge, that's taken place over the course of years. On a daily basis, it takes me about 40 minutes to play a game with six-minute quarters, then 10-20 minutes after that simulating, dealing with injuries, maybe making trades, etc.
I recall a study suggesting that half-hour bursts of gaming were ideal, and seem to have fallen into that with the individual games. Beyond that, knowing that I can take an hour-long time period and be done with that proves much more relaxing than other games that might demand dozens of hours. Running pick-and-rolls and adjusting playing time after injuries soothes me. Outside of playing the game itself, the anticipation of making my set of draft picks, or trying to add a star on an expiring contract to a contender at the trade deadline serves as a much more interesting thing to run through my mind than the usual anxieties.
May of 2021 appears to be the last hurrah for my Association. The things that make it possible for me to manipulate my Association into the shape I want—editing sounds, faces, songs, jerseys, stats, divisions, and draft classes, with the help of a dozen modders—are balanced on a knife edge of strange software, odd compatibility, and the benevolence of mod and editor creators. No matter how much time or money investment I've put into making this Association work, it can all fall down.
The most recent update of Windows 10 has made RED MC unusable, which will eventually lead to a guaranteed crash. Part of me hoped I'd be playing this forever, watching LeBron 2 winning championships for the Trail Blazers in 2036. The larger part of me hopes that sports games in the future will give their users powerful editing tools, and a love of the history of their sport.
But there's a twist. An upset or a comeback, maybe. I've fixed the problem by finding a way to install a Windows 7 partition JUST to reboot into to use RED MC. My Association will go on.
Rowan Kaiser is a Bay Area-based freelance writer focusing on video games and pop culture, though he grew up in Portland with cats named after Terry Porter and Clyde Drexler. He tweets @rowankaiser and also has a Patreon.