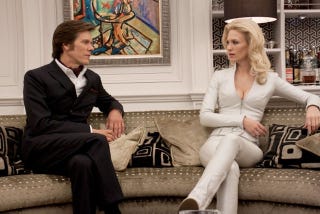 We're going to cut loose. Footloose, that is, during tonight's open thread where things like Syd Mead, Kevin Bacon and Mel Gibson might come up during conversation.
Speaking of Bacon, did you know he's in the new X-Men movie as Sebastian Shaw? Yeah, that's him on the left, probably explaining his kinetic energy based mutant powers to the comely January Jones. I'm a little less worried about this next X-Men flick than I was yesterday, but certainly not yet excited. Not as excited as I am for the new Batman, even though I know next to nothing about Bane.
While we talk about things nerdy, personal and not necessarily video game related, let's remember to have a good time.