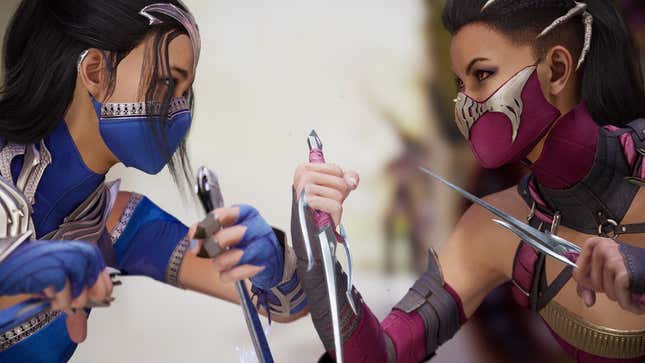 Fighting game reboot Mortal Kombat 1, which got a paid Early Access release September 14, introduces a completely new, single-player board game mode called Invasion. According to a PlayStation blog explaining the mode, the expansive Invasion mode serves as a kind of pinnacle to the 31-year-old series' history of varied single-player formats. Well, maybe it could have, if only some reviewers didn't find it so boring.
The Week In Games: What's Coming Out Beyond Mortal Kombat 1
What is Mortal Kombat 1's Invasion mode?
Invasion, which becomes accessible after you roll credits on the game's single-player story mode, is "an evolution," PlayStation says, of preexisting features like the storefront Krypt from 2002 game Mortal Kombat: Deadly Alliance and single-player battle Towers. In it, you protect your reality from invaders by battling them "on board game-like world maps," PlayStation says, in exchange for rewards like in-game money and cosmetics.

"Anyone can enjoy Invasion," PlayStation writes, "but longtime fighting game fans [...] will probably find a second home here. While the main incentive is scoring unlockables to personalize your favorite fighters, there's much to enjoy."

A single-player mode that takes inspiration from board games sounds like it could be quite novel, bringing something fresh and exciting to MK1's single-player offerings. Unfortunately, it doesn't seem to be working out that way. IGN's Mitchell Saltzman found it overwhelming, saying:

It's a mishmash of ideas that sound good on paper but, unfortunately, tries to be a few too many things all at once. Almost every invasion "board" is made up of a series of spaces that each have a themed fight assigned to them [...]. You move around the board conducting an exhausting grind of clearing repetitive battles against enemies that—at least for the first several hours—don't put up much of a fight, collecting a slower-than-usual drip of worthwhile rewards, finding keys to unlock gates, and completing challenges like [classic fight interlude] Test Your Might or survival minigames, until you reach the end.
VG247 staff writer Connor Makar agreed in his review, calling the mode "largely unexciting."

"It has its moments with secret missions and good 'ol Test Your Might challenges spread around," he said, "but these perks were countered by modifiers that did more to frustrate than exhilarate. A missile from off-screen may be funny on occasion, but a super-armored katana running at you, over and over again, begins to grate."

Is there any benefit to MK1 Invasion mode?
Those categorizations might not inspire much confidence in Invasion, but cosmetics fiends should familiarize themselves with it anyway—it's where MK1's future seasonal content, which will not involve any microtransactions or a battle pass, can be found.

So you can keep your money; you'll pay up by enduring potentially sleepy gameplay. But, who knows, you might find Invasions not-so-sleepy. In its review, Bloody Disgusting said Invasions "is a massive improvement over the previous game's Krypt, feeling less random and cryptic in how to overcome obstacles."

"With Netherrealm promising to seasonally update the Invasions mode, I can't wait to see what surprises and themes are in store for us," said writer Reyna Cervantes.

In any case, Invasions makes sense living in Mortal Kombat 1, a game that wants to strike a clean balance between the decades-old and new. Test it out yourself when the game comes out globally on September 19.
Pre-order Mortal Kombat 1: Amazon | Best Buy | GameStop
.