PSP phenom Monster Hunter Portable 3rd made a huge splash in Japan during its first week on sale, moving close to two million copies in just a few days. What did that mean for the PlayStation Portable?
Another 323,000 PSPs in the hands of Japanese gamers, that's what. Sony's handheld gaming machine and the latest Monster Hunter were the hardware and software champs overseas this week, according to sales tracker Media Create. The latest Tales game, Tales of Graces F for PlayStation 3, settled for second, while Mario vs. Donkey Kong: Mini-Land Mayhem for the Nintendo DS debuted in fourth place.
See the top 20 bestselling games in Japan below.
01. Monster Hunter Portable 3rd (PSP) - 1,950,717 / NEW
02. Tales of Graces F (PS3) - 215,187 / NEW
03. Mario Sports Mix (Wii) - 59,007 / 143,991
04. Mario vs. Donkey Kong: Mini-Land Mayhem (DS) - 57,474 / NEW
05. Gran Turismo 5 (PS3) - 55,682 / 486,389
06. Pokemon Black / White (DS) - 54,848 / 4,548,954
07. Super Mario All-Stars Collection (Wii) - 45,904 / 659,319
08. Momotarou Dentetsu World (DS) - 45,126 / NEW
09. Kamen Rider Climax Heroes OOO (PSP) - 36,856 / NEW
10. Kamen Rider Climax Heroes OOO (Wii) - 35,132 / NEW
11. Wii Party (Wii)
12. Taiko no Tatsujin Wii: Minna de Party * 3-Yome! (Wii)
13. Super Kasekihorida (DS)
14. Tongari Boushi to Mahou no Otana (DS)
15. Super Robot Wars L (DS)
16. Kirby's Epic Yarn (Wii)
17. Wii Sports Resort (with Wii Remote Plus) (Wii)
18. Dangan-Ronpa: Kibou no Gakuen to Zetsubou no Koukousei (PSP)
19. Mario Kart Wii (Wii)
20. Penguin no Mondai: The World (DS)
G/O Media may get a commission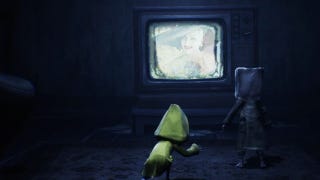 Horror Video Games to Play Leading Up to Halloween
Spooky and scary
Something video games have over their film counterparts when it comes to horror is the player's agency. Sure, watching the slasher claim their next victim can get a jumpscare out of you, but you know what's scarier? Knowing you had the power to stop it. Watching someone slowly open a door and enter a dark room is unnerving, but having to do it yourself will send shivers down your spine and paralyze you with fear.
On the hardware front, PSP dominated, outselling all other hardware combined for the week of November 29 to December 5. Its closest competitor was the Wii, which managed to outsell the PlayStation 3 last week. Update: Now with a chart that actually reflects the following sales figures.
PSP - 323,653
Wii - 56,095
PlayStation 3 - 41,760
Nintendo DSi LL - 40,465
Nintendo DSi - 36,481
Xbox 360 - 3,497
PSP go - 1,875
Nintendo DS Lite - 1,580
PlayStation 2 - 1,440