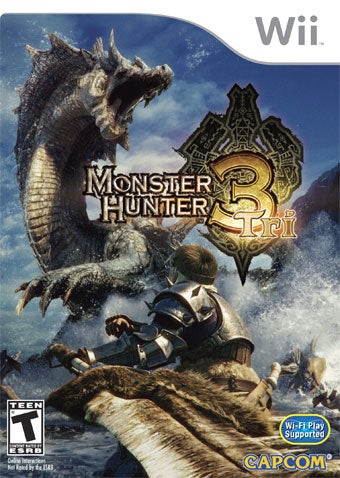 If Capcom has its way, once you put Monster Hunter Tri into your Wii you'll never want to take it out, with regularly scheduled downloadable quests and events keeping the game fresh well past release.
The on-disc content is only the beginning in Monster Hunter Tri, coming exclusively to the Wii on April 20. Capcom plans on introducing special Event Quests, Gigantic Monster Quests, and Arena Quests on a regular basis, making this one Wii title worth leaving in the drive.
Well, worth leaving in the drive while regularly powering on your system. That's kind of rare on the Wii. I mean, aside from Animal Crossing.
But this is a game about animal killing, and that's just what you'll be doing. Event Quests are quests that present a variety of challenges for up to four players, with level requirements that'll give aspiring hunters something to work towards.
Gigantic Monster Quests will only be available one day at a time. Players will team up against the great and terrible Jhen Mohran on a sailing ship, firing cannons to attract its attention before finishing it off mano-a-monstero.
Arena Quests pit two players against singular monsters, with rewards doled out based on how fast the monsters go down.
A monthly calendar of events will be posted on the first Friday of every month at Capcom's Unity blog.
That's a whole lot of game right there. Perhaps I better unwrap my GameStop demo and see what's what before I'm left in the dust.