The PlayStation Portable represented well in Japan's Christmastime hardware contest thanks to the continued sales rampage of Monster Hunter Portable 3rd and idol worship game AKB1/48: Idol to Koishitara... and maybe even The 3rd Birthday.
Elden Ring's Top Five Spells, According To FromSoftWare's Stats
The latest Monster Hunter game for the PSP has racked up more than 3.5 million sales in Japan, something the pop group AKB48-themed title and Square Enix's The 3rd Birthday will have a hard time matching. Another pair of monster hunting titles in the top ten, Pokemon Black and Pokemon White, appear to be on the cusp of selling an impressive 5 million copies overseas.
And kudos to the Retro Studios-made Donkey Kong Country Returns, which crosses the half-million mark in Japan, according to sales tracker Media Create. Here are the bestselling games in Japan for the week of December 20 to 26, 2010.
G/O Media may get a commission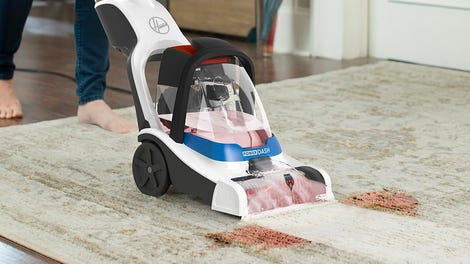 26% Off
Hoover PowerDash Pet Compact Carpet Cleaner
01. Monster Hunter Portable 3rd (PSP) - 404,175 / 3,565,976
02. AKB1/48: Idol to Koishitara... (PSP) - 236,282 / NEW
03. Donkey Kong Country Returns (Wii) - 213,518 / 529,818
04. Pokemon Black / White (DS) - 164,950 / 4,909,161
05. Wii Party (Wii) - 162,135 / 1,573,959
06. The 3rd Birthday (PSP) - 140,476 / NEW
07. Mario Sports Mix (Wii) - 136,295 / 435,829
08. Inazuma Eleven 3: Sekai e no Chousen! The Ogre (DS) - 117,504 / 293,108
09. Ni no Kuni (DS) - 84,115 / 328,992
10. Tongari Boushi to Mahou no Otana (DS) - 74,255 / 249,450
11. Mario vs. Donkey Kong: Mini-Land Mayhem (DS)
12. Kirby's Epic Yarn (DS)
13. Wii Sports Resort with Wii Remote Plus (Wii)
14. Gundam Musou 3 (PS3)
15. Super Kasekihorida (DS)
16. New Super Mario Bros. Wii (Wii)
17. Taiko no Tatsujin Wii: Minna de Party * 3-Yome! (Wii)
18. Mario Kart Wii (Wii)
19. Super Mario All-Stars Collection (Wii)
20. Tamagotchi no Narikiri Challenge (DS)
On the hardware front, the PSP wins first place, but Nintendo wins the pie.
PSP - 177,691
Wii - 131,761
Nintendo DSi - 93,464
Nintendo DSi LL - 92,329
PlayStation 3 - 64,228
Nintendo DS Lite - 5,790
PSP go - 5,380
Xbox 360 - 5,298
PlayStation 2 - 2,604