MomoCon has filled the campus of Georgia Tech in downtown Atlanta with cosplayers, and video game fans are there in force. Check out characters from Final Fantasy, Kingdom Hearts, Miles Edgeworth, BioShock, Brutal Legend, and more!
It was nice to see a couple of games represented that you don't normally see that often being cosplayed. Sure there were Stormtroopers, FF characters, and an overwhelming number of Kingdom Hearts characters, but for every two costumes I expected there was one that took me by surprise.
Take Jak, for instance. Considering the last time a major game was released in the series, he's probably had that outfit for a while, but it's still nice to see that sort of dedication.
I wish the shot of Eddie Riggs from Brutal Legend and his roadie had come out a little better. I thought the hats were a nice touch.
In case the blue, sign-wielding people are flummoxing your brain-meats, that's a pair of Prinny Rights protestors. Considering their main obstacle is Etna, I don't see them living very long.
As I was taking the photo of Ash from Pokémon, this little red-haired girl ran up and yelled at him, "You ruined my bike and abandoned me!" Reunions like that always make me a little Misty-eyed.
G/O Media may get a commission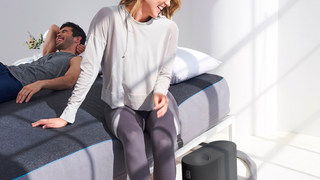 Eight Sleep Pod Cover
My favorite picture of the bunch? Spider-Man eating lunch. My camera accidentally went off while I was trying to view the photos I had taken so far, and Spider-Man eating lunch is the end result.
Now I'm heading back to MomoCon for day two, which includes a panel by a man who will likely faint dead away from nervousness, possibly crushing people in the crowd. I'll let you know how that goes.