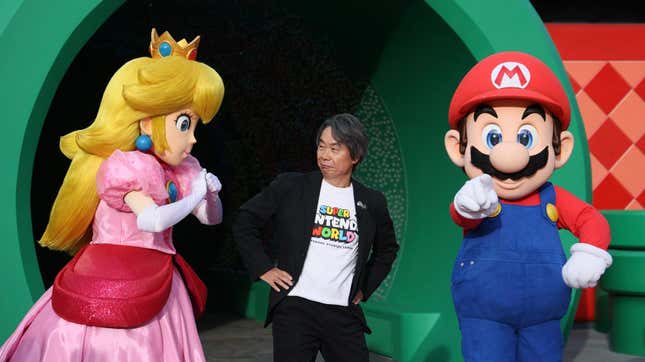 Nintendo existed long before Shigeru Miyamoto joined back in 1977, and it will continue to do just fine after he's gone, the famed game designer told NPR in a new interview. Following the grand opening of the Super Nintendo World theme park in California last week, one of the creators behind Super Mario Bros., The Legend of Zelda, and the Switch manufacturer's other mega franchises briefly discussed his legacy and how it's important to go outside every once in a while.
Previously Senior Managing Director at the company and the General Manager of Nintendo EAD, its largest game development group, Miyamoto took on a more fluid role in 2015 as a Representative Director and Creative Fellow. Still a producer on almost every major Nintendo game that comes out, he now has time to focus on projects outside of games like the new theme parks and upcoming Mario movie. The eventuality of his retirement, however, also makes fans and stock markets nervous. (He just turned 70 and will soon be celebrating his 56th anniversary at the company).
"You know, I really feel like [Nintendo's] not going to change," Miyamoto told NPR when asked how his eventual departure might change the video game company. "It's probably going to be the same. There's, you know, people on the executive team, creators within the company and also people who create Mario, they all have this sense of what it means to be Nintendo."
While players fret that Nintendo one day losing Miyamoto might be like Apple without Steve Jobs, he told NPR that he doesn't have a monopoly on what makes Nintendo Nintendo:
It's not like there's a lot of different opinions that go back and forth. Everyone has an understanding, this kind of shared understanding, of what it is to be Nintendo. And so even when there's new ideas that come up, there's always the fact that it's a new idea, but also the fact that, is it a new idea that really has the essence of Nintendo or not? And I think that's something that, you know - we have this incredible shared vision, almost a little scary shared vision, about this. So I think there won't - it's not going to change.
Securing that "scary" level of shared vision was one of the things Miyamoto has prioritized over the last decade. "In terms of Nintendo's business, the core idea is to create a harmony between hardware and software," he told The New Yorker in 2020. "It's taken about ten years, but I feel that the younger generation here is now fully able to uphold that foundational principle."
At the time, he said he was now looking forward to focusing on finding new experiences, and it's something he told NPR he thinks is important for players and well as developers, even if it's just leaving the house. "I always say, if it's really nice outside, you should go play outside," Miyamoto said. "And I tell that to people who want to be game designers as well, you know? If it's a nice day, you know, go experience outside, because really, I think there's an important factor that it's your personal experience. Then when it links with the experience you're having with this virtual entertainment, that's when the joy, the fun factor, really explodes exponentially."
In other words, Miyamto thinks all of us need to go touch grass more.