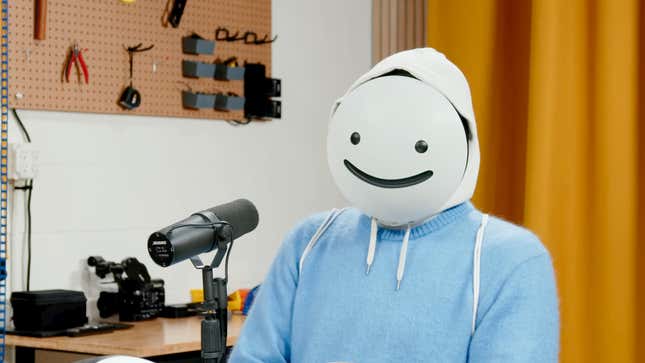 Minecraft YouTuber Dream has spoken about his decision to put the iconic smiley-face mask he was known for back on following face reveal, saying he doesn't regret showing his mug to the world because it felt necessary to live.
Baldur's Gate 3's Karlach Actor On Playing The Beloved Barbarian
Read More: Popular Minecraft YouTuber Dream Will Cover Face In Videos After Bullying
Clayton "Dream" Huff is a staple in the Minecraft community, who broke into the mainstream largely thanks to his October 2022 face reveal. Prior to going mask off, no one knew what he looked like. But in an effort to be both inspiring and transparent, he revealed his face last year, showing that he's just an average-looking guy. This quickly sparked a harassment campaign, though, as folks online dragged his appearance, prompting the YouTuber to eventually do the opposite of Future's song, delete his face reveal, and retreat back under the mask from whence he came. Now, Dream has opened up about why he peeled off the mask in the first place.
Dream has no regrets about showing his face
In a July 10 interview with YouTube podcasters Colin Rosenblum and Samir Chaudry, Dream said the mask and his identity were created by his fandom, explaining how this helped create the "Dream" persona.
"The mask has been a massive part of everything I've done," Dream said. "I never actually planned to not show my face. Like, I just started as a faceless creator because of the fact that I never really showed my face online. […] I didn't have social media, actually. I didn't have a Twitter. I didn't have Facebook. I didn't have Instagram. I had, like, nothing before I started YouTube. So, I just happened to not really have no pictures of me on any of my stuff. […] Then I got sent a mask to my P.O. box and I was like, 'That's so sick.' So, it really was made by the fans, I guess, and I never wanted to lose that."
Dream referenced a 1977 Stan Lee interview, in which the legendary comic artist talked about the importance of Peter "Spider-Man" Parker being a regular guy. This idea that "any kid could imagine he's Spider-Man," as Lee said, was quintessential to Dream's philosophy behind wearing his smiley-face mask. He's happy with the way he looks, but the mask held such a deeper meaning for him that he says putting it back on was important to carry that inspiring message. And despite the hate he received and deleting his face reveal video, Dream said the move was a complete necessity for him.
"I feel like I had to do the face reveal. I was in this constant state of paranoia, [but] my life is way better now that I'm able to actually live my life and do what I want. So, I don't regret the face reveal whatsoever," Dream said on the podcast. "I would maybe do things slightly differently, but it's so hard to say that because it could create a chain of events where things go differently after that like [with] almost everything and so I'm pretty comfortable [with it]."
Dream's face to irrelevant to his main mission
Dream's management told Kotaku over Twitter DMs that his face isn't the point. Instead, the anonymity allows folks to project themselves onto Dream.
"Basically, [Dream's] mask is a symbol of the channel that can help viewers connect more with and be inspired by content on his channel," Dream's team said. "The idea is that anybody could be Dream. What Dream looks like is irrelevant to the goal of entertaining as many people as possible, simultaneously inspiring viewers to be creative and follow their dreams."
The team also said Dream's full interview is worth a watch.
"I recommend watching the full interview [with Colin and Samir] if you would like to gain a higher level of understanding of who Dream is as a person," the team said. "There is a lot of information revealed in that interview which [Dream] has never been comfortable enough to reveal before."
Read More: Minecraft Megastar Admits To Cheating After Months Of Denial, Death Threats
While Dream's face reveal may no longer be on his YouTube channel, his face is still plastered all over the internet. Funnily enough, the YouTuber also featured his mug in a recent music video because, hey, if you didn't know, Dream is a musician signed to the same record label as artists like Ariana Grande, Drake, Post Malone, Taylor Swift, and The Weeknd.