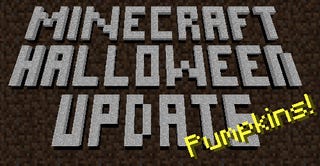 Runaway indie success Minecraft will treat players to a deeper, scarier, more difficult version of the game later this month, when developer Notch has promised a new Halloween-themed update, complete with a new element—pumpkins!
The next big Minecraft update promises more than just fewer bugs, more music and new monsters. The update, planned to hit on Halloween, adds scary fish, a scary new realm and even scarier depths. "The deeper you are, the brighter it has to be to stay safe," warns the game's official site, along with a note that torches will soon expire, but lanterns will light your journey forever.
On the crafting front, players will soon be able to create watches "that let you know when it's safe to emerge from caves" and pumpkins that can be carved into Jack O' Lanterns that serve as "totally useless helmets."
The full spooky update for Minecraft, due October 31 for those of you who don't know when Halloween happens, is detailed further at the official site.