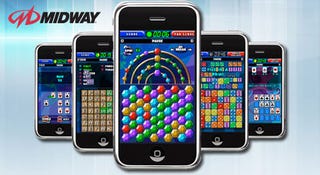 You've probably heard that Midway's in a bit of a financial bind right now, a bit hungry for cash. How can they turn it around? Maybe with an iPhone game? Maybe with five of 'em?
Well, the Chicago-based developer/publisher is giving it a go, announcing a quintet of iPhone and iPod Touch-bound games for later this month. All five fall under the Touchmaster brand — this isn't Mortal Kombat Touch, folks, but pretty, colorful App Store appropriate fodder.
Prismatix, Dice King, Combo 11, Carpet and Spellwinder will hit the iTunes App Store by end of January, giving Touchmaster flashbacks to the regularly inebriated and lonely bar patron. Each is just 99 cents, with all five bundled for $3.99.
Say, you know what would be great? Hydro Thunder. On anything.