The eBox is a Chinese game machine that offers players a controller-free experience. Sound familiar?
It's been dubbed a "Kinect clone" in refer to the controller-free Kinect platform that Microsoft is launching.
As posted previously, the eBox will come with 30 games built in and a set-top camera that can detect a player's movements, according to the article. According to Eedoo Technology, the company behind the product, this is only the second controller-free console.
"I think it's all about who builds the best experiences," Microsoft Game Studios exec Phil Spencer recently told Kotaku. "I don't think anybody longs to buy a piece of plastic to put under their TV. I think what it's going to be able is who has the best games and experiences for people. I think it's always been about that and should be."
Like Microsoft, Eedoo is betting that its console can offer inclusive entertainment. "Our product is designed for family entertainment. EBox may not have exquisite game graphics, or extensive violence, but it can inspire family members to get off the couch and get some exercise," Eedoo Technology honcho Jack Luo said this past August. Luo believes that since Eedoo is a Chinese company, it better understands the needs of local gamers.
G/O Media may get a commission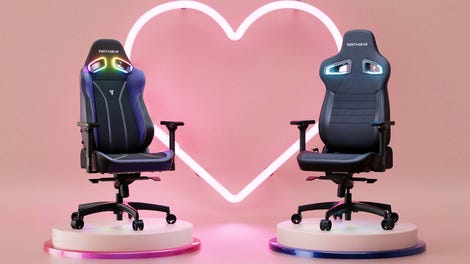 Up to $150 off
Vertagear Gaming Chairs
"We don't really know anything about it other than that press release that went out," a Microsoft spokesperson pointed out. "Nobody really knows what it is doing and how it's doing it. We don't know about its content. There isn't a lot of clarity on it."
The eBox and eBox games have been shown in the Chinese press.
Microsoft is keen enter the Chinese game market, where the Xbox 360 (and other game consoles) are banned. The console, which is also assembled in China, is widely sold in the country's gray market.
"China is a very important market," added Spencer. "We would be foolish to not see it as a place where we have a future."
The eBox, which is slated to go on sale in early 2011, is expected to cost more than a Nintendo Wii, but less than a US$299 Xbox 360.