Microsoft's priciest version of the Xbox 360 is getting a $100 price drop this Friday, the publisher told Kotaku, and its top selling model of the console is being phased out.
The 120GB Xbox 360 Elite will sell for $299.99, while the popular 60GB Xbox 360 Pro will be cut to $249.99. Despite being Microsoft's current top selling model, production of the the Xbox 360 Pro has already stopped, Aaron Greenberg, director of product management for the Xbox 360, said.
"With the Pro console we are dropping the price down $50 to $249 while supplies last," he said. "Moving forward we will have two (models), the $199 Arcade and the Elite console for $299."
The $299 Elite will have one difference from the current models of the Elite, Greenberg said, it will no longer ship with an HDMI cable.
Greenberg said the price drop is a direct result of lowered production costs.
"As we continue to refine and make improvements on the internal components for the Xbox 360 and costs come down, we pass those savings on to our customers in the form of price drops," he said.
G/O Media may get a commission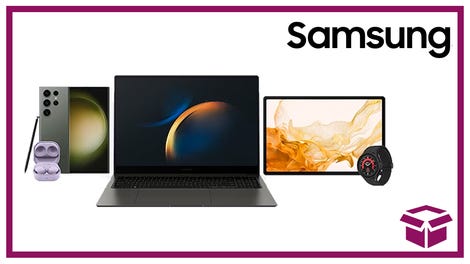 24 hour deals
Discover Samsung - Daily Deal
The decision to do away with the middle-of-the-road Xbox 360 Pro, which was selling for $299, was driven by a desire to simply Xbox gamer's choices, he said, pointing out that Microsoft launched the Xbox 360 with just two models.
Microsoft's price drop comes a week after Sony announced that their priciest version of the Playstation 3 was getting a $100 price drop and the company unveiled a sleeker version of their console, dubbed the PS3 Slim, which would sell for $299. Sony's new prices hit over the next week.
Greenberg calls the timing of Microsoft's price drop news a coincidence, denying that it was in response to Sony's price drop.
"We plan out what we want to do and how we do it years ahead," Greenberg said. "Many months ahead we get into the details, like the price and dates. This has been in the works for months and months.
"I think it's a bit coincidental, but it's also somewhat logical with both (Sony and Microsoft) making price adjustments at this time of the year because we are turning the corner of the holiday season."
Although Microsoft seemed to match Sony's price drop news this week, unlike Sony and despite rumors to the contrary, they didn't announce a slimmed down version of the Xbox 360. And Greenberg says one won't be coming.
"We feel great about our console," he said. "We have taken a different philosophy, adding more value to our existing console through updates and reinventing the system software."
"We feel like our system has done very well for us in the current form. We have no plans for a slim."
Greenberg also reiterated that this generation of gaming console from Microsoft will be around for quite a bit longer.
"We feel that we're not even at the halfway point (of the Xbox 360's life cycle)," he said. "That is something we believe in strongly. People have invested in these consoles, and we have massively connected communities and we have storage. I think what we did with the New Xbox Experience is a sign of what we want to do with the console."
Another, he said, is Microsoft's recently announced Project Natal which allows gamers to play games using a video camera and the console.
"It will work with our Xbox 360 system," he said. "I think that will add to the longevity of the system.
"The Xbox 360 has plenty of future."