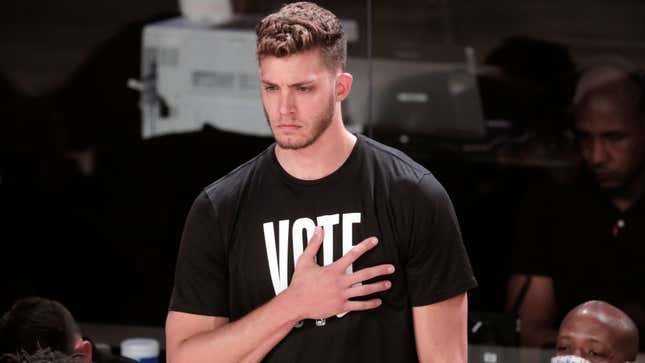 Nearly two years after NBA player Meyers Leonard blew up his whole career after shouting an antisemitic slur during a Call of Duty: Warzone livestream, ESPN reports he has signed a 10-day contract with the Milwaukee Bucks.
This Arcade-y Basketball Game Brings The NBA Jam Vibes
Read More: NBA Player Drops Antisemitic Slur During Call Of Duty: Warzone Stream [Update]
Leonard is a seven-foot-one center who previously played for the Portland Trail Blazers and the Miami Heat from 2012 to 2021. He had an alright record for a center, averaging 5.6 points and 3.9 rebounds according to Yahoo Sports. However, he was fined $50,000 and suspended from the NBA for one week in 2021 for using an antisemitic slur during a Warzone livestream on his Twitch channel. Following the suspension, Leonard was traded to the Oklahoma City Thunder but was immediately waived. Leonard's been out of the NBA since, both due to his action on stream and as he was "rehabbing post-surgical nerve damage on his right leg," according to ESPN.
ESPN's senior NBA insider Adrian Wojnarowski tweeted on February 20 that Leonard, who's time out of the NBA has spanned from March 2021 to now, will be back on the basketball court for the Bucks. It's unclear when exactly fans will see Leonard guarding the basket, but as the Guardian suggests, the Bucks hope to see if Leonard can help the team reach the playoffs.
Kotaku reached out to the Bucks for comment.
Leonard issued an apology for using the antisemitic slur in March 2021 shortly after the incident, saying he "didn't know what the word meant at the time." He's since sought counseling from two rabbis in South Florida and met with several Jewish organizations to learn more about antisemitism, according to ESPN. He even went on ESPN's sports news and analysis show Outside the Lines in January 2023 to speak more on the incident and what he's learned since, saying he might have picked up the use of the antisemitic epithet while gaming because "over the years there's less than ideal language used in a large portion of video gaming."
"I was sad that I was losing my job," Leonard said. "I was sad that I hurt people, and frankly, alls I cared about, in my life, outside of taking care of my family, was going to make this right. […] There are absolutely no excuses for what happened that day and ignorance, sadly, is a very real thing. I am not running from this, but I did not know that it happened."