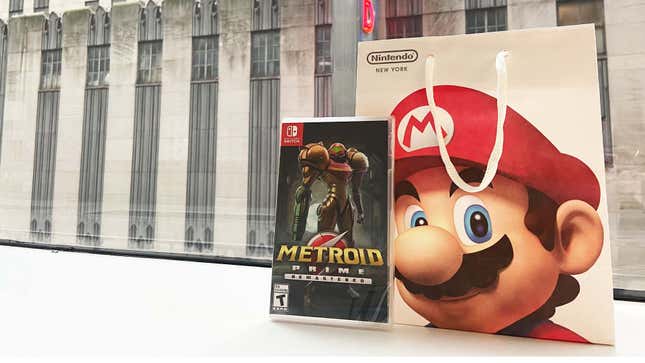 Earlier this month, Metroid Prime Remastered was announced and released digitally on Nintendo Switch. It's very good and a perfect example of how to remaster an old game. However, it wasn't available physically until yesterday, February 22. And uh, well, it's still kind of not available physically, as people are reporting that stores are selling out of copies of Metroid Prime Remastered almost instantly.
The Top Ten Most Played Games On Steam Deck: December 2022 Edition
On February 8, 2023, Nintendo finally (after years of rumors) announced and then immediately released a fully remastered version of Metroid Prime, which originally launched back in 2002 on the GameCube. This new port includes improved textures, models, and modern control options. However, while this new version of the game was critically praised, it was only available digitally on the Nintendo Switch eShop for $40 until yesterday. Now, in theory, you should be able to buy a copy from a store or Amazon. However…

As spotted by IGN, some people who pre-ordered the game through online stores like Amazon reported on February 22 that their copies were suddenly delayed until March or even April. Online and physical stores like Target and Best Buy have also quickly sold out of copies, too. Looking online, I found most stores didn't have any copies of Metroid Prime Remastered in stock to pick up. Even Wario64—the internet's favorite video game deal-finder—can't seem to help people get their hands on the game. And over on Reddit, people are sharing stories of just how hard it is to find a copy of Prime anywhere.

Nintendo limiting how many copies of Metroid Prime you can buy
Kotaku senior editor Alyssa Mercante, famous for her coverage of The Witcher 3's Labiagate, trekked out to the NYC Nintendo Store to see if she could snap a copy for herself. Apparently, the place was fairly busy—as you might expect—and she was only allowed to buy one copy of the game. When she asked the staff at the store how many copies they had left, they told her they were "not allowed to disclose" that information.

Kotaku has reached out to Nintendo about the current shortage.

Meanwhile, as Metroid Prime Remastered continues to be hard to buy physically via usual retailers, folks on eBay are already trying to flip copies of the game for more than $40. Many are selling it for $70 to $90, however, some are asking more than that, with at least a few listings trying to sell the game for $100 or more. I even saw at least one listing that was asking for $400. It seems that in less than 48 hours, the physical copy of Metroid Prime Remastered has become a collector's item.

I think this is a good time to remind people that Metroid Prime Remastered is available for $40 digitally on the Switch. If you really want to play the game, that's the best (and kind of only) way to go right now—at least until things cool down and Nintendo (hopefully) re-stocks stores with more copies of its fantastic remake.