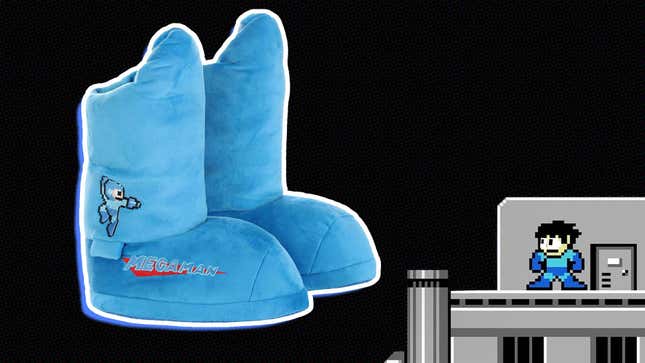 Sometimes a product comes along and makes me go, "Well, damn, that's a perfect idea!" That was precisely what happened the first time I saw these newly announced Mega Man slippers that turn your feet into big, blue, comfy boots that look just like the Blue Bomber's heroic shoes.
A Foe From The Next Team Ninja Game Is Giving Me Sekiro PTSD
It's been a few years since the release of 2018's Mega Man 11, the latest main entry in the popular, long-running action platformer franchise. So while fans of the Blue Bomber will have to keep waiting for whatever comes next, they can pass the time by either going back and appreciating how great Mega Man X's dash jump was or checking out these newly announced Mega Man slippers. Yes, those are your only two options. I double-checked.
As spotted by Rockman Corner, clothing and costume store Fun.com has revealed a new, official pair of Mega Man slippers that turn your feet into giant blue boots. These newly announced slippers look like fluffy (and probably warm) recreations of Mega Man's famous boots from his classic series look. The slippers also include a nice detail: Red dots on the bottom of each slipper that reflect similar details found in-game. On the sides of the slippers, you can also spot 8-bit sprites and the Mega Man logo, which aren't details seen on his boots in the games, but are still nice to include.

These slippers will be released on June 23 in small, medium, large, and x-large sizes and will cost $30.

If you want something Mega Man-themed that you can wear out on the street, Fun also announced a new pair of Mega Man sneakers. These will be available in sizes 6-13 and are set to release on August 14 for $60.
Finally, you can run around the park or go to the grocery store with shoes that have Mega Man's head attached to them like you recently killed the poor bastard and want to show off your trophy.
.