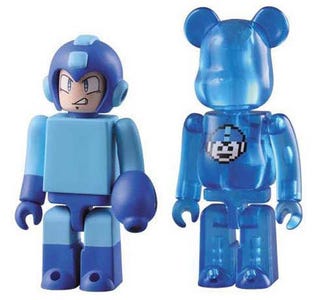 Medicom combines their Kubrick and Bearbrick lines into one adorable set of Mega Man figures, coming in January 2010 to a dusty shelf near you.
The Kubrick/Bearbrick Mega Man set is actually a Rockman set, but I figured our North American readers might know him better by his bastardized name. Rockman looks vaguely pissed to be packaged alongside a clear blue Rockman fan-bear, but such is his lot in life. Not even swapping out his helmet for flowing hair seems to help.
The two figure set, which Capcom revealed back in October, is the first of two combo packs from Medicom, with a Proto Man set on the way featuring a similarly 1-Upped Bearbrick figure.
The Rockman set will begin shipping to fine toy importers in January. NCSX is currently accepting preorders, with $30.90 securing your 2.75 inch robot bear pair.
Rockman & 1-Up Bearbrick Set [NCSX]