During a special event in New York City today, Amazon's long-rumored Android game console came to light as Amazon Fire TV, a streaming set-top box that's essentially a Kindle Fire for your television.
Meant to compete with the likes of Apple TV and various Roku devices, the Amazon Fire TV is exactly what it needs to be — the powerful innards of a Kindle Fire, using your HDTV as a display. It's got a quad core CPU and a dedicated GPU, so it should be ready to handle anything the 'Games' tab shown in the device's interface can throw at it.
Amazon VP Peter Larson introduced the gaming side of the Fire TV as a bonus. He pointed to the high price of consoles and general disappointment with streaming games from iDevices to Apple TV, before having Mike Frazzini from Amazon Games take the stage to talk in greater depth.
G/O Media may get a commission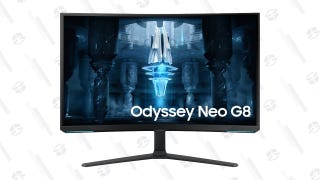 Samsung 32" Odyssey Neo G8 Curved Gaming Monitor
Thousands of games will be available to play next month on Amazon Fire TV, with big name developers like Ubisoft, 2K, Gameloft, EA, Sega, Double Fine on board to offer content — the same sort of content we'd see on the Kindle Fire, really.
Frazzini also introduced the $40 Amazon controller, which is indeed the leaked console-style controller we saw last month. The controller retails for $40, and comes bundled with Amazon coins that can be used to purchase games.
Games can also be played with the Fire TV's remote or a custom app Amazon is releasing next month.
Games shown running on the system include a Fire TV-specific version of Minecraft, Gameloft's free-to-play racer Asphalt 8, a Monsters Inc. runner and a third-person shooter called Sev Zero from Amazon's own Amazon Games Studio.
The Amazon Fire TV is priced at $99 and available today. You want some specs? You can't handle the specs.
Size
4.5" x 4.5" x 0.7" (115 mm x 115 mm x 17.5 mm)
Weight
9.9 oz (281 grams)
SOC Platform
Qualcomm Snapdragon 8064
Processor
Qualcomm Krait 300, quad-core to 1.7 Ghz
GPU
Qualcomm Adreno 320
Storage
8 GB internal
Memory
2 GB LPDDR2 @ 533 MHZ
Wi-Fi Connectivity
Dual-band, dual-antenna Wi-Fi (MIMO) for faster streaming and fewer dropped connections than standard Wi-Fi. Supports public and private Wi-Fi networks that use the 802.11a/b/g/n standard with support for WEP, WPA and WPA2 security using password authentication
Bluetooth
Bluetooth 4.0 with support for the following profiles: HID, HFP 1.6, SPP
Cloud Storage
Free cloud storage for all Amazon content
Ports
5.5 mm DC Jack
Type A HDMI 1.4b output, w/HDCP
Optical Audio (TOSLINK)
10/100 Ethernet
USB 2.0 Type A
Audio
Support for Dolby Digital Plus, 5.1 surround sound, 2ch Stereo and HDMI audio pass through up to 7.1
Content Formats Supported
Video: H.263, H.264, MPEG4-SP, VC1
Audio: AAC, AC-3, E-AC-3, HE-A, PCM, MP3
Photo: JPG, PNG
Output Resolution Supported
720p and 1080p up to 60fps
System Requirements
High-definition television, HDMI cable
TV Compatibility
Compatible with high-definition TVs with HDMI capable of 1080p or 720p at 60/50Hz, including popular models from these manufacturers: Hitachi, JVC, LG, Mitsubishi, NEC, Panasonic, Philips, Pioneer, Samsung, Sharp, Sony, Toshiba, Vizio, Westinghouse
Warranty and Service
1-year Limited Warranty and service included. Use of Fire TV is subject to the terms found here.
Regional Support
Certain services may not be available outside the U.S.
Included in the Box
Amazon Fire TV
Amazon Fire TV remote
2 AAA batteries
Power Adapter
Quick Start Guide
Read more about the Amazon Fire TV over at Gizmodo