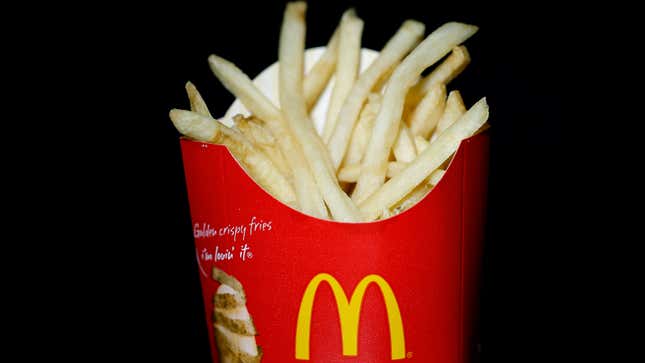 During a Tuesday earnings call, the bigwigs over at the clown delicatessen, McDonald's, discussed super important business-y things like the economy and trends among its hungry patrons. Turns out Ronald McDonald's peckish customers are even bigger ballers on a budget than they've been in the past because folks aren't ordering a side of fries with their fast food meals like they used to. Why? Because times are rough in this economy.
We Taste-Tested Cold Stone Creamery's Special Nintendo Flavors
According to Insider, McDonald's CEO Chris Kempczinski told investors that the company is seeing "a slight decrease in units per transaction." Folks are still ordering their usual things: Big Macs, McChickens, nuggets, you name it. But because customers' wallets are feeling pinched in large part due to inflation and a looming recession, french fries are going stale on the counter.

"We are seeing a slight decrease in units per transaction," Kempczinski said. "So things like 'Did someone add fries to their order? How many items are they buying per order?'—we're seeing that go down in most of our markets around the world slightly, but it's still going down. Certainly, the customer is being mindful about how they're spending their dollar or their euro."
The McStruggle bus is chugging, too
Fewer fry sales aren't the only thing plaguing McDonald's. The fast food joint is also experiencing a funk with its delivery sales. Y'know, the service that'll charge you additional fees for scooping food up from the restaurant and dropping it off at your front door (if you're lucky).

"I think it is fair to say that the growth of delivery—whether that's a function of it just being at a large number now or if it might, in fact, be some of the consumer pressures—but the growth of delivery has certainly slowed," Kempczinski said. "There is still growth, but it's not nearly the growth that we saw previously."
As an infrequent user of the McDonald's mobile app, methinks a large part of why folks don't order delivery as often could be attributed to the fact that most of the deals the app throws in folks' faces like they just stumbled upon the most lavish gacha pull are typically only in-store deals. The machine is already broken if a food delivery app is shoving instant-regret meals in my face that I'd have to perform the walk of shame to acquire.

"As far as outlook for the business, we remain very confident about how we're positioned," Kempczinski said. "The consumer demand for our brand remains strong."

In conclusion, millennials have caught another body by slowly suffocating McDonald's fry and delivery margins. It'll be fine, probably (derogatory).